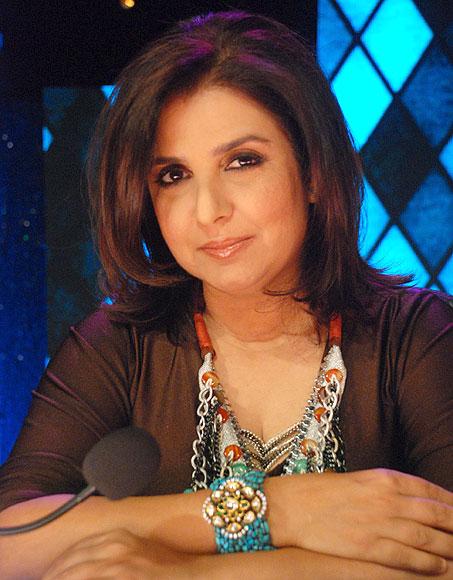 Choreographer-producer Farah Khan will replace Malaika Arora Khan as judge on the fourth season of reality TV show India's Got Talent on Sunday, October 21.

Farah explains how this came about, what reality shows mean to her, and why she deserves to be in the Guinness Book of World Records.

What prompted you to be a judge on the show when it has already reached the semi-finals stage?

I was offered this show at the very beginning but couldn't take it up since I had to promote my film Shirin Farhad Ki Toh Nikal Padi and (husband Shirish Kunder's film) Joker and do the pre-production work of my next film Happy New Year.

But the production house still wanted me as a judge on the show, so they asked if I could join by October. Until then, they would get another judge for the audition rounds.

Malaika and I were chatting one day and we realised that they have asked her and me to do half and half. So I told her that because I have lost weight, they have called me to replace you (smiles).

India's Got Talent is very similar to Entertainment Ke Liye Kuch Bhi Karega, another reality show you've judged.

Yes, this show is similar to Entertainment Ke Liye Kuch Bhi Karega but the concept is different.

That show was filled with craziness with Anu Malik. Here, you are getting seven different types of acts on one show. There is a lot of variety in it.

Are you squeamish about watching some acts, like (co-judge) Kirron Kher?

Half the time Kirron is behind the pallu of her sari! I don't think she has watched half the show.

I know it's a bit scary because I have seen similar acts in Entertainment Ke Liye Kuch Bhi Karega. What I find squeamish is when people put things in their mouth.

But I am slightly more experienced in watching such acts so I don't feel that squeamish.

You have done quite a few reality shows. Which was your favourite show?

India's Got Talent is my 14th reality show and I have enjoyed all of them. My name should be sent to the Guinness Book of Records (grins).

Indian Idol was my first show and it was good fun, as well as Dance India Dance Super Kids which I did recently.

I enjoyed Entertainment Ke Liye Kuch Bhi Karega. Now I am all set to enjoy India's Got Talent. I know Karan (Johar) and Kiron so it's going to be fun.
Any talent you wish that you had?

I wish I could sing or do gymnastics, but I can't.

What talent do your children have?

My son is a superb dancer. He has won quite a few prizes. He loves dancing. When invited to a party, he gets into the party mood from the door itself! He enters the place like he had a rave or something (smiles).

My two daughters are known as the background dancers for him. He likes quite a few numbers which he likes to dance to but he can't bear Halkat jawani. He closes his ears the moment he hears the music. He says TV bandh karo….
 
What about your girls?

Right now, they are not doing anything so we don't know about their talent. They get ready, look pretty and go and stand in a party.
They don't want to dance or take part in anything. They just get their tattoo done, and throughout the party they will take care of it and not touch anything. 
How do you balance work and home?
I am the best juggler and can handle it quite well.
Television shooting is once a week and it works out well for me. I can give enough time to my children. Bollywood keeps you extremely busy unlike television.
Otherwise I am only attending my children's friends' birthday parties. There are nearly 20 birthday parties this month. I will attend at least 15 (
smiles
). 
Which is your favourite reality show on TV?
I never miss
Bigg Boss
; I have followed earlier seasons too. This time I am waiting for something (interesting) to happen.
I want to ask Salman (
Khan
) why he is making
Bigg Boss parivarik
. I will be shooting
Dabbang 2
dance sequences with him. I will tell him for God's sake, don't spoil the show. It's like taking out an item song from a film and saying let's use a
bhajan
instead.                       
What is your equation with Akshay Kumar now? Did it leave a bitter taste after Joker? (Akshay did not promote the film amid reports that he had differences with Farah's husband and director and co-producer of the film, Shirish Kunder)
It should leave a bitter taste in anyone's mouth.
Joker
got a bad response. People had killed the film even before it released.
It's not a nice thing, what happened. People have to support their films, come what may. 
After Shirin Farhad Ki Toh Nikal Padi, will you act in more films?
No. I don't want to play someone's mummy (
smiles
).