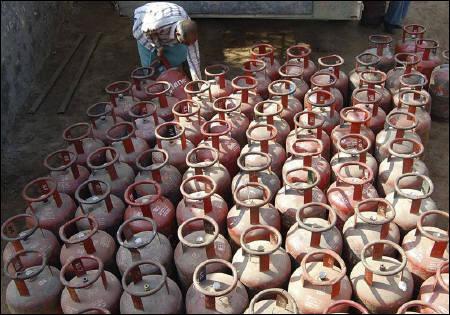 The Oil Ministry will raise the cap on supply of subsidised cooking gas (LPG) to 9 cylinders per household in a year provided the Finance Ministry agrees to give an additional Rs 3,000 crore in 2012-13.
Oil Minister M Veerappa Moily today first met Finance Minister P Chidambaram and then held a two-hour long brainstorming with heads of the three PSU fuel retailers on the issue of raising the cap of 6 subsidised cylinders per household in a year.
A top ministry official said oil companies are already losing over Rs 400 crore per day on selling diesel and cooking fuels below cost and bearing the cost of supplying additional subsidised cylinders will be impossible.
"We can raise the cap to 9 cylinders if the Finance Ministry agrees to give an additional subsidy. For the remaining part of the current fiscal, the additional subsidy would be over Rs 3,000 crore and on an annualised basis it would be about Rs 9,000 crore at current prices," he said.
The government had on September 13 decided to restrict the supply of subsidised LPG to 6 cylinders of 14.2-kg each to every household in a year. Any requirement beyond this had to be purchased at market rates which are more than double the subsidised price of Rs 410.50 per bottle in Delhi.
Only 44 per cent of the households in the country consume 6 cylinders in a year and the rest of them have to purchase between 3 and 6 cylinder at the rate of Rs 895.50 per 14.2-kg bottle in Delhi.
This has led to vociferous demands from all quarters to raise the cap on supply of subsidised cylinders. Moily had last week told the Parliament that demands for raising the cap "were being looked into."
The official said so far the finance ministry has remained non-committal on providing additional subsidy.

Even with 6-cylinder-per-household cap, oil PSUs face a unprecedented revenue loss of over Rs 163,000 crore on sale of diesel, subsidised LPG and kerosene. Of this, the finance ministry has to provide Rs 105,525 crore and it does not seem to have funds to meet even this share.
Increasing the cap would add another Rs 3,000 crore to this figure. The remaining of the revenue loss on fuel sale is borne by oil firms.
Retailers currently lose Rs 10.19 per litre on diesel, Rs 32.87 a litre on kerosene and Rs 478.50 per 14.2-kg subsidized LPG cylinder.
In 2011-12, government gave out Rs 83,500 crore by way of cash subsidy. The official said Moily also took up with Chidambaram the issue of finance ministry providing a cash support of only Rs 30,000 crore as against a demand of over Rs 55,000 crore to cover losses incurred on selling fuel below cost in the first half of current fiscal.
After the imposition of the cap, the demand for subsidised LPG grew by only 2 per cent in September and October this year as compared to a growth of 6.7 per cent in the same period last year.
Non-subsidised LPG sales this year jumped by 17.4 per cent as compared to 1.4 per cent last year. The official said LPG supplies are being streamlined and bottlenecks removed.
The filling of Know-Your Customer (KYC) forms has been mandatory only on 2.6 crore suspected customers who have multiple connections at the same address.
Only one subsidised connection per household comprising husband, wife, dependant children and parents is allowed.