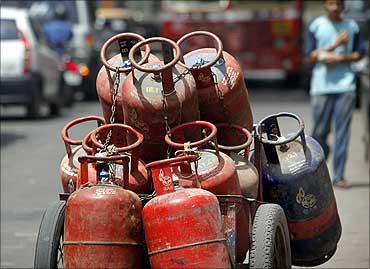 The recent government decision to restrict supply of subsidised cooking gas cylinders to six per year to each household will see consumption for fuel decline to 4.1 per cent in second half of the fiscal, a report by think-tank CMIE said.
"The growth of cooking gas consumption is likely to fall to 4.1 per cent in the second half from 5.3 per cent in the first half, on account of cap on the distribution of subsidised LPG cylinders to six per year," the Centre for Monitoring Indian Economy (CMIE) said in its monthly report.
The government had on September 13 decided to restrict the supply of subsidised LPG to six cylinders to a household in a year, in its bid to slash the mounting oil subsidy bills and eventually reduce the fiscal deficit.
The government has set a 5.3 per cent fiscal deficit target for the current financial year. Though the government is now mulling to revisit the ceiling following its sharp criticism from the Opposition parties, some states have already raised this cap to nine.
There is also a growing demand from the Congress on the government to revisit the subject. The government is looking into demands for raising the cap on supply of subsidised cooking gas (LPG) cylinders per household, Oil Minister M Veerappa Moily told Parliament last week.
The CMIE in its report has also forecast some moderation in growth in consumption of petroleum products in the second half and pegs it at 4.9 per cent for full fiscal.
"This will be a shade better compared to the 4.4 per cent growth in FY2011-12," it said.
At the same time, the spike in the diesel demand which stood at 10.3 per cent in the first half driven by the robust demand from agriculture and power sectors is unlikely to sustain that level, the report said, adding, the growth is expected to moderate four per cent this fiscal.
Stating that hike in diesel prices is unlikely to affect its consumption in the reaming two quarters of the fiscal, the CMIE said a slight improvement in commercial vehicle sales and price differential between diesel and many other fuel like petrol etc could fuel demand growth.
Likewise, the growth in petrol demand is expected to slowdown further to 3.5 per cent in the second half compared to 4 per cent in the first two quarters.
"A shift in preference towards diesel driven vehicles will continue to hurt petrol demand," the report said.