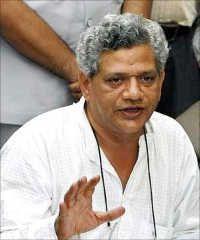 The Communist Party of India-Marxist would use "all options" available in the rules of business in Parliament to thwart government's attempts to implement foreign direct investment in retail, even as it welcomed the decision to hold debate on the issue in both Houses under rules entailing voting, a top leader said on Thursday.
"We will utilise all available options under the Rules of Business to ensure that this (decision on FDI in retail) is not implemented... We'll use all procedures to stall it," senior CPI-M leader Sitaram Yechury told reporters in New Delhi.
Referring to the recent RBI amendments in FEMA to allow FDI in multi-brand retail, he said these would have to be voted within a time-frame as laid down in the Foreign Exchange Management Act itself.
"So, due to its obduracy, the government has agreed to have a vote on the issue twice" -- once when the FDI issue comes up for vote after a debate and the second time after the RBI amendments are tabled in Parliament to amend FEMA to allow FDI in retail.
Welcoming the decision for holding a debate followed by voting, Yechury said four days of the winter session would not have been wasted if the government had agreed to the Opposition demand on the first day itself.
Regarding the tabling of RBI's FEMA amendments, he said Sections 47 and 48 of FEMA say that once these amendments are made, they have to be placed before both the houses as soon as possible.
"The convention is that they should be placed before the 15th sitting of the first session after the amendments are made. That means by December 13. Once these are tabled, they have to be disposed of through voting within 30 days."
While the amendments to FEMA would have to be tabled in this session, they would have to be taken up in the next (budget) session next year, he said.