Government's move to give more power to commodity markets regulator FMC appears to be headed for trouble with Trinamool Congress opposing it during a meeting of the Union Cabinet on Friday.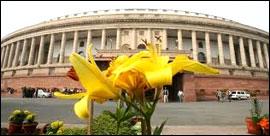 Trinamool Congress sources said that objection by party leader and Railway Minister Mukul Roy to the measure at the Cabinet meeting led to deferment of the proposed Forward Contract Regulation Act (Amendment) Bill.
"For the last 15 years this bill is being taken up and not been passed yet. It needs threadbare discussion and a political consensus is required over the Bill," Roy is understood to have said at the meeting.
Earlier, a minister present at the meeting had said the bill was not taken up as Food and Consumer Affairs Minister K V Thomas was not present.
The Forward Contract Regulation Act (Amendment) Bill is considered essential for development of commodities futures trade as it aims to strengthen Forward Markets Commission (FMC) by providing it financial autonomy.
State governments should also be taken into confidence before finalisation of the Bill and there should be a study to assess the impact of the proposed measure on marginal farmers, Roy has maintained.
The Cabinet had earlier also deferred a decision on this Bill following opposition from UPA constituent Trinamool Congress.