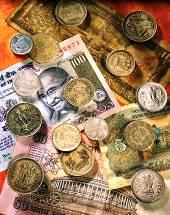 Commodity market regulator FMC said on Thursday it would not allow traders to manipulate futures price of agriculture items and could ban its trading if required in the backdrop of poor monsoon rains affecting kharif crops.

The regulator has doubled the deposit money that a trader is required to keep with exchanges for trading in turmeric following unusual price movement.

"We are keeping a close watch on all agriculture commodities. We will take action as and when required.

"We are going to be very alert and not allow traders to manipulate prices. We will ban if need be. We are aware of deficient monsoon rains impacting crops," Forward Markets Commission chairman Ramesh Abhishek told reporters.

Abhishek also briefed Food Minister K V Thomas about price situation of agricultural items in the futures market in the backdrop of drought-like
situation.
Stating the Commission has been taking steps to check speculation and price volatility, the regulator said: "We saw price movement in turmeric and on Wednesday we have increased margin on it from 20 to 40 per cent".
Thomas said on Wednesday the regulator was keeping a close watch on all farm commodities and might ban if there is unusual fluctuation in prices.
Monsoon is deficient by 22 per cent so far and the worst-hit states are Karnataka, Maharashtra, Gujarat and Rajasthan. Poor monsoon has affected sowing of kharif crops such as paddy, pulses, oilseeds.
FMC is closely monitoring the price movement of chana, soyabean, soya oil, potato, sugar and wheat, among other commodities.
At present, there are five national and 16 regional level commodity exchanges in the country.