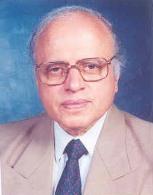 Noted argiculture scientist M S Swaminathan said on Friday the current rise in food inflation is likely to persist for some time in urban India and described price rise as "man-made".
"High food inflation is here to stay, especially in urban cities, as the economy is mismanaged. Food inflation is man-made (in big cities)," said Swaminathan on the sideliens of a conference in New Delhi.
Swaminathan, who is the harbinger of the Green Revolution in the country, called for streamlining of the supply-chain and post-harvest systems in the economy.
"We need a holistic approach to streamline procurement and reform supply-chain and post-harvest systems," he said.
His statement assumes significance at a time when food inflation remains a major concern for the government and the RBI.
As per the data released on Friday, food inflation stood at 13.07 per cent for the week ended January 29.
High food prices especially of kitchen staples, such as onions, have prompted the government to take a slew of measures, including export ban.
Experts have in recent times also pointed to the glaring disparity between the wholesale prices and the rate at which food items are being sold to consumers in the retail market.
Illegal hoarding and losses due to lack of proper storage and warehouse facilities have been blamed for such a situation.
As much as 30 per cent of the country's vegetable and fruits are estimated to be wasted before reaching the consumer.
However, according to Swaminathan, the high food prices have not led to increased profit for the farmers.
He said: "It was difficult to strike a balance between rural consumers (also farmers) and urban consumers. Rural farmers are struggling to get fair price for their produce, while urban consumers want lower price."
"The whole system is very weak, storage and transportation is poor and there is no organised system," he added.