Poor living conditions of contract workers in industrial clusters could be blamed for the recent troubles at Manesar, which saw a major violence last month at carmaker Maruti's plant, a senior government official said in New Delhi.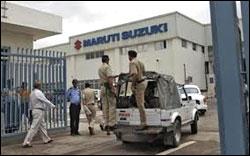 There is a need for the industry and the government to join hands to promote low-cost housing for industrial workers, Department of Industrial Policy and Promotion (DIPP) secretary Saurabh Chandra said at an Assocham function in New Delhi.
Recalling an earlier practice of such housing facilities in industrial clusters like Kanpur in Uttar Pradesh, Chandra urged the large industrial units to join hands to create such housing facilities for contract labourers.
"One of the opinions regarding the trouble in Manesar (Haryana) was the poor living conditions of the contract workers in industrial clusters and this is not something new," Chandra said.
A senior company official was killed and 100 others were injured in the violence at the Maruti's plant in Manesar last month.
"Can industry and government join hands in promoting low cost workers housing...labour colony was built in Kanpur may be six decades back. Low cost industrial basic housing facilities were available in clusters in large industrial estates. Can large industrial units join hands?" he asked.