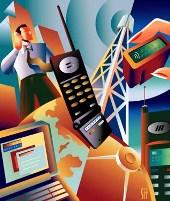 Telecom operators are not in a quest for pan-India spectrum at the upcoming 2G auction and will restrict their bidding to a limited number of circles.

First off the blocks, the Videocon group, whose licences were cancelled by a Supreme Court directive, says it will bid in eight circles.

Venugopal Dhoot, chairman of the group, said, "We will bid in eight circles. Our expectation is that the bid prices for pan-India five-MHz spectrum would hit Rs 20,000 crore (Rs 200 billion).

The government decision reducing the base price and permitting staggered payment and mortgage of spectrum has made the auction viable for companies."

Rajan Mathew, director general of the Cellular Operators Association of India, the  association of GSM players, said, "I think most operators, including incumbents, will bid only in a few circles and not all-India. The high price leaves no justification for that."

The only exception could be Reliance Industries Ltd, which according to sources close to the company, will bid in all circles.

The company, however, declined to comment.

Operators say there might be tough fights in some key circles. Says a senior executive of a leading telecom company, "We are preparing for some tough bidding in some lucrative circles, like the metros and some 'A' circles, 
where everyone might bid and prices will be high."
According to the COAI, the four metros account for 30 per cent of the industry's revenues, while operators say the top 15 circles provide 70 per cent of revenues.
Even in the auction of 3G spectrum, operators paid 65 per cent of the total revenue generated in the auction to win spectrum in Delhi,  Mumbai, Karnataka, Tamil Nadu and Andhra Pradesh.
The total numbers, operators privately agree, might remain the same but the difference would be that they would be selective about circles.
In the upcoming auction, there is space for three new operators -- two GSM and one CDMA.
However, it is also expected there will be at least four new players who will bid: Reliance Industries, Sistema, Telenor and Videocon.
Both Sistema and Telenor, according to sources in the companies, are looking at bidding for 8-13 circles.
Idea Cellular could also join the bandwagon by bidding in some circles.
A top executive in Idea Cellular did not comment whether the company would bid in circles where its licences were cancelled but said, "It is unlikely that we'll bid for extra spectrum as the price is too high."
Incumbent operators can take a final call only after the government decides how much they must pay as one-time fee for spectrum they currently hold and migrate to the unified licensing regime.