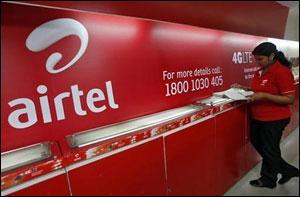 Bharti Airtel has bid for telecom licence in Myanmar as India's biggest private telecom company looks to expand its overseas operations.
A host of other global players including Norway's Telenor and Malaysia's Axiata have also submitted their bids in the process of awarding a licence to provide mobile telephony services in Myanmar.
"We are always open to opportunities provided there is a strategic fit and the market offers significant potential," a Bharti Airtel spokesperson told PTI.
Besides India, billionaire Sunil Mittal-led Bharti Airtel already offers services in Bangladesh and Sri Lanka as well as 17 countries in Africa.
In order to increase telephone and Internet accessibility, Myanmar has recently opened the door for foreign firms to enter its market.
Myanmar's communications and information technology ministry has launched tenders for two nationwide telecommunications service licences, to be awarded in the first half of this year.
The Ministry has said it wanted both domestic and overseas operators to compete in the sector. Asked about its participation, Telenor Group said it has submitted its expression of interest to participate in the process of awarding a license to provide mobile telephony services in Myanmar.
"Myanmar is located in a region with a strong Telenor Group presence and where we have 15 years of experience from similar markets, we believe that we are well-positioned to contribute in developing a successful mobile industry in Myanmar," a Telenor spokesperson said.
The recent move by Myanmar's Communication Ministry is part of a plan to expand telephone penetration between 75 and 80 per cent by 2016, from the current level of around 10 per cent.
"The government of Myanmar has asked all interested parties to submit an expression of interest by January 25 and Axiata has done so. Like many others telcos, it is a logical and interesting market to consider investing in. It represents a strategic market given its high growth potential," an Axiata Group spokesperson said.
Global telecom firms are eyeing Myanmar after a number of international sanctions were eased in response to political reforms under a quasi-civilian government that took power in 2011.