Former Chief Justice of India Sarosh Homi Kapadia has joined the board of directors of Asia's oldest bourse, the Bombay Stock Exchange (BSE) as a public interest director, the exchange said in a release on Wednesday.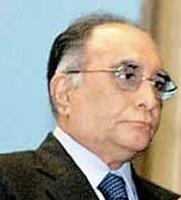 Kapadia was nominated to the post by market regulator Securities and Exchange Board of India (Sebi).

"The Board of Directors of BSE Ltd is pleased to announce the appointment of Hon'ble Justice S H Kapadia, former chief justice of India, as public interest director on the board of the exchange with effect from January 29, pursuant to nomination received from Sebi," the BSE release
said.
Kapadia retired as Chief Justice of India on September 29, 2012. He was elevated to the bench of Supreme Court of India on December 18, 2003 wherein he dealt with matters under Sebi Act, 1992, Companies Act, 1956, RBI Act, Mergers & Acquisitions, Banking Regulation Act, Taxation, Information Technology and validity of Indian Accounting Standards.
Prior to his role as Chief justice of India, he served as Chief Justice of Uttaranchal High Court, Additional and Permanent Judge of the Bombay High Court, Judge of the Special Court (Trial of Offences Relating to Transactions in Securities) Act, 1992 and Judge of Special Court dealing in matters related to accounts and finances of banks and financial institutions.