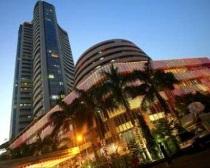 Markets ended in the red, albeit off the day's low as selling persisted in realty and oil & gas shares.

The Sensex, after trading on a subdued note through the day, ended down 130 points at 17,374. Nifty slipped 42 points at 5,291.

On the global front, Japan's Nikkei index fell on Friday to post its third straight weekly loss after a Spanish bond auction failed to extinguish fears of a renewed euro zone debt crisis, but a weaker yen offered support.

The Nikkei closed 0.3% lower at 9,561.36, below its 13-week moving average near 9,575, and was down 0.8% this week.

European markets recovered their losses with CAC, DAX and FTSE gaining around 1% each ahead of today's meeting of G20 finance ministers to discuss boosting resources to help ease Europe's debt crisis.

BSE capital goods index shed nearly 2% to 9,874. Power, realty and oil & gas indices also dipped lower in trades. However, BSE auto index maanged to end flat at 10,753.

"We are bullish upon auto shares such as Tata Motors, Maruti Suzuki, M&M, Hero MotoCorp. Tata Motors is the top pick from this space.

One can go long with stop loss at Rs 302 and target price of Rs 345. Marut Suzuki can be purchased with a target of 1,470,"says Salil Sharma, Technical Analyst, Partner, kapursharma.com.

From the auto space, M&M moved higher by 3% at Rs 727 on reports that the government approved the foreign direct investment proposal worth of Rs 25.99 crore for company's radar systems.

Maruti Suzuki ended flat at Rs 1,391. The company has started a campaign on "Live life with LUV (Life Utility Vehicle)" adverts
as it promotes its new Ertiga model, and stock investors appear to have responded in kind.
Market heavyweight, Reliance dropped 1.4% at Rs 731 ahead of its quarterly results today.
Most brokerages are of the opinion that the market heavyweight will be report a decline in net profit for the financial year 2012. Lower gross refining margin, dip in gas output and higher subsidy burden is likely to impact the financial performance of RIL, says IDBI Capital in a recent report.
They expect GRM of $6.7/bbl in Q4FY12 from $9.2/bbl in Q4FY11, KG-D6 gas volume to drop to 37mmscmd from 51mmscmd and petchem margin to shrink to 10% from 14.4% in Q4FY11.
Larsen & Toubro shed 2% at Rs 1,292 following announcement that the SUN Group has commissioned one of the fastest executed solar projects in India at the Gujarat Solar Park, which was inaugurated by the Honourable Chief Minister, Narendra Modi in the Patan district.
The 6MW project was completed in a little over 3 months in association with L&T, who provided the EPC services for the project.
ICICI Bank slipped 2% to Rs 861 and along with RIL and L&T, accounted for a 62 point fall in the Sensex. Among other losers were Hindalco, ONGC, BHEL and DLF.
Cement shares declined on weak numbers from majors such as ACC and Ambuja Cements.
Ambuja dipped 2.5% to Rs 161 after reporting 23% year-on-year (y-o-y) drop in its net profit at Rs 312 crore for the first quarter ended March 2012 due to an additional depreciation charge of Rs 289 crore and rising operation costs. Sales, however, increased 19% to Rs 2,213 crore y-o-y basis.
Shares of power generation firms declined in the weak market. Tata Power Company, JSW Energy, Reliance Infrastructure, and NTPC shed 1-2% each.