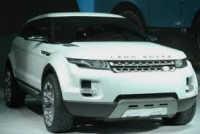 In the third quarter, Tata Motors surprised the Street with its numbers as sales of Jaguar Land Rover grew at a robust 36 per cent and profit jumped by 40 per cent.
At that time, it conveyed to analysts that China was emerging as a key market for the company. Almost 17 per cent of JLR's total volumes came from China, compared to 13 per cent in the corresponding period last year.
Analysts say China is not only the fastest growing market for JLR, but it's also the most profitable. Therefore, any development in the Chinese luxury car market would obviously have a bearing on Tata Motors.
In the current quarter, German car makers have started giving huge discounts in China. For BMW and Mercedes, growth has come down to 20-25 per cent from 60 per cent levels seen last year.
Consequently, large discounts (20-25 per cent) are the order of the day. These are discounts given not only by the dealer but also by the auto companies.
According to CLSA, the Chinese luxury car market is showing signs of slowing down, as both order book and delivery times have shrunk for most luxury car makers.
On its part, JLR has conveyed to analysts that the discount war in China is a temporary affair and is done to push some slow-moving models. JLR claims it is not giving any
discount in China and its order book looks robust.
However, analysts believe even if there is no impact on volumes, JLR may not be able to hold on to its margins.
Consolidated Ebitda margins of Tata Motors in the December quarter stood at 16 per cent, compared to 15.3 per cent in the corresponding quarter of the previous year and 13.3 per cent in the September quarter.
Analysts believe JLR's volumes may not be heavily impacted due to the price war. The confidence on volumes stems from the fact that Tata Motors is aggressively expanding its dealer network in China.
The company has increased its dealers to 100 in FY12 and plans to take it to 150 in FY13. It has entered into a 50:50 joint venture with Chery Automobiles of China to develop, manufacture and sell certain JLR vehicles in China.
According to IDBI Capital, though major contours of the agreement are yet to be disclosed, this agreement will boost JLR's manufacturing presence in China and also aid in making JLR's prices more competitive in the Chinese market over a period.
Given that China plays a big role in the company's profitability, an aggressive pricing environment in the luxury market will impact JLR, too.
CLSA expects JLR's sales volumes (excluding Evoque) to grow at 20 per cent year-on-year in FY13, down from the 70 per cent for non-Evoque models in FY12.