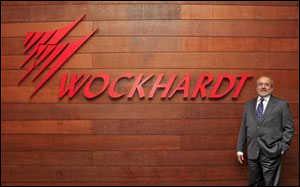 After Ranbaxy, another major domestic drug maker is likely to come under the scanner of the Indian drug regulator.

As a proactive measure to ensure quality and compliance, the government might inspect the facilities of Wockhardt, which are under US import alert, sources said.

Last month, the US Food and Drugs Administration had placed Wockhardt's facilities in Waluj near Aurangabad on import alert, barring supply of various products from these facilities to the US.

An email questionnaire to Wockhardt did not elicit any response.

When contacted, the Drugs Controller General of India G N Singh said: "Whenever there are any issues related to quality, our duty is to see that medicines that are available in India are genuine and are good in quality. We will fulfil our responsibility to ensure whatever medicines are moving in the Indian market comply with good manufacturing norms."

Singh, however, refused to comment on Wockhardt. "I cannot tell you which company we are going to inspect but wherever specific issues are red-flagged, we will not fail to re-confirm," he added.

Recently, the DCGI had ordered an inspection into Ranbaxy's Paonta Sahib and Dewas facilities, the two units that continue to be under a US FDA's import alert since 2008.

The Indian regulator is also studying the recent judgement passed by the US authorities on the company after it pleaded guilty to making fraudulent statements to US FDA to gain drug approvals
in the US.
Ranbaxy had also agreed to pay a $500-million penalty to the US Department of Justice for its wrongdoings.
Following the event, the DCGI is evaluating Ranbaxy's operations in India and if there are any implications for Indian patients.
The DCGI has not yet arrived at any decision on Wockhardt.
However, officials said they are looking at all details and will do everything to ensure that medicines manufactured for supply in India are in compliance with the norms.
"If there are any violations as per the Indian law, we will take stringent action against the company," said Singh.
After the US FDA imposed import alert, Wockhardt said that FDA's action would potentially affect $100 million in revenue on an annualised basis, but it should be able to restore most of that within six-to-nine months by shifting production to other facilities.
The company generated revenues of $908 million for the financial year ended March 2012.
Shares of Wockhardt ended at Rs 1,081.60 on the Bombay Stock Exchange on Tuesday, down 10 per cent from their previous close.
Pain reliever sales suspended
Shares in Wockhardt Ltd fell 10 per cent to their lowest close since August 2012 after the health ministry suspended the sale and distribution of Dextyropropoxyphene, a pain-relieving drug.
Wockhardt makes this drug available in India under the brand name of Proxyvon, according to Macquarie.
Although the notification was made in the official gazette on May 23, market players said it only got noticed and then circulated in the markets on Tuesday.