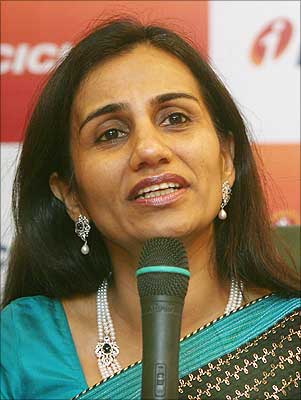 Recent measures by Indian government to push economic reforms have dispelled fears of policy paralysis, while some more steps are needed for reviving investments and ensuring that household savings go into productive sectors, top banker Chanda Kochhar said.
She said positive momentum is expected to be seen in the Indian economy going forward.
On the macro-economic scenario, Kochhar, ICICI Bank MD and CEO, told PTI in an interview: "Firstly, with inflation stabilising, monetary policy is likely to be supportive of growth.
"Secondly, the recent policy actions by the government, such as the steps with respect to fiscal consolidation and the passage of key legislations, have demonstrated its commitment to creating an enabling environment for growth, and gone a long way in dispelling the fear of policy paralysis."
Kochhar, who is here for the World Economic Forum's annual meeting added: "Thirdly, India's growth is driven by strong domestic factors, as a result of which we are much better placed than other countries.
"We need to focus on reviving the investment cycle, for which we need effective decision making to ensure that projects move on the ground. Looking at the world, we are seeing a recovery in China and some positive indicators in the US, though resolution of fiscal issues in the US remains a key factor to watch."
About the global economic scenario, Kochhar said Europe is seeing continuing growth challenges, but policy measures taken in the last few months have helped to stabilise markets and substantially remove the risk of a systemic shock event.
Asked about her wish list for this year's Union Budget, she said: "All stakeholders are keenly awaiting the Budget's it comes on the back of a range of policy measures announced by the government.
"We hope that the Budget would take forward the process of fiscal consolidation and at the same time focus on measures that promote growth."
Kochhar further said: "Measures to encourage financial savings would also be important, given the need to ensure that household savings are channelised into productive sectors."
Concerns have been raised in the recent past about household savings going into idle assets like gold, even as many productive sectors wait for funding.
The government has recently taken some steps to discourage imports of gold. The industry is seeking measures to make other asset classes, such as equity, more attractive to discourage a huge flow of savings into unproductive asset class like gold.
Besides, the government has liberalised FDI norms for retail as well as aviation sectors and partially decontrolled diesel prices, among other similar steps.