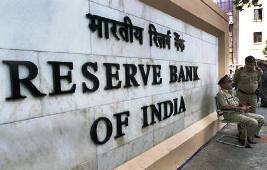 The Reserve Bank of India is likely to go for a 0.50 per cent rate cut by mid-2013, owing to falling inflation levels and sharp recent declines in the prices of oil, gold, and the trade deficit, Goldman Sachs said in a report on Tuesday.

"We are bringing forward our Reserve Bank of India rate call of 50 bps (basis points) of cuts in the repo rate to mid-2013, from our earlier call of no further cuts in 2013, and 50 bps in first quarter of 2014," it said.

Goldman Sachs managing director and chief India economist Tushar Poddar said, "This is due to a weak inflation print in March and the sharp recent declines in the prices of oil, gold, and the trade deficit, which suggest a near-term improvement in the current account deficit."

The RBI, in its last policy statement, had mentioned that 'headroom for further monetary easing remains quite limited' due to risks on account of the current account, and pressures on inflation.

Since the policy statement, both these risks have diminished, thus allowing space for the central bank to ease policy, Goldman Sachs said, adding, "The timing of policy rate cuts beyond May is more contentious. We think that the central bank will likely cut once more in the summer."

"GDP growth, at 4.5 per cent in fourth quarter of 2012, remains significantly below trend, necessitating monetary easing by the RBI," Poddar said, adding that 'we build in a rate cut of 25 bps in the next policy meeting on May 3'.

RBI, in its mid-quarter monetary policy review on March 18, reduced the repo rate by 25 bps from 7.75 to 7.50
per cent.
RBI lowered key policy rates to help revive growth.
India's gross domestic product growth in the third quarter of 2012-13 fiscal, ended March 31, was 4.5 per cent -- weakest in 15 quarters.
The global investment banking major has also revised its inflation forecast for FY14 to 6 per cent from 6.8 per cent due to significant reductions in the inflation trajectory.
"We were surprised by the extent of the recent decline in WPI inflation, which materially reduces the near-term outlook for inflation," it said.
WPI inflation fell to 6 per cent year-on-year (y-o-y) in March from 6.8 per cent y-o-y in February.
In addition, oil prices have fallen by 14 per cent in the last two months and gold, which is India's second largest import, has also fallen by 19.5 per cent so far this year.
"The direct impact of every $10 fall in oil prices is likely to reduce India's current account deficit by 40 bp, and headline inflation by 40 bp," the report said.