The rupee may depreciate beyond 55 levels (against dollar) in the near term as the Budget for 2013-14 has no major proposals to cut current account deficit and risks of rise in net borrowings have increased, Goldman Sachs has said.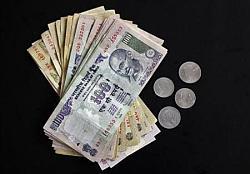 "With risks to the net borrowing requirement from the budget to the upside, and no major proposals in the budget to reduce the current account deficit (CAD), we think there are depreciation pressures for the rupee in the near-term," Goldman Sachs Managing Director and Chief India Economist Tushar Poddar said in a research note.

According to Goldman Sachs, the three-month, six-month and 12-month USD-rupee forecasts are 55, 53 and 52 respectively, with risks of further depreciation beyond 55 in the near-term.

Currently, the rupee is hovering around the Rs 54 level against the US dollar.

The headline numbers announced by the Union Budget are in line with expectations, but the composition of the reduction - based on optimistic revenue increases rather than spending cuts – was a disappointment, the report said.

That, along with no new major reform proposals, suggest to us the budget could have a short-term negative effect for Indian equities, bonds, and the rupee.

The fiscal trajectory has materially changed for the better over the past few months due to a front-loading of consolidation, and the government's
debt ratio remains on a declining path.
"We think the consolidation may not be material enough to provide space for the RBI to enact a significant amount of rate cuts," Poddar said.
"With the RBI sounding hawkish on suppressed inflation and a very high current account deficit, we continue to expect the RBI to cut by only 25bps in 2013, lower than consensus expectations," he added.
In its January 29 policy review, RBI after a nine-month long hawkish monetary policy stance, slashed its key interest rates by 0.25 percentage points.
The central bank had said that it was critical to arrest the loss of growth momentum as inflation was showing signs of remaining range bound.
RBI is likely to announce its mid quarter policy review on March 19.