India-born former Goldman Sachs director Rajat Gupta has been ordered to pay $6.2 million (approx. Rs 33.44 crore) for legal expenses incurred by his former employer during his trial in insider trading case.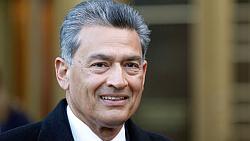 Gupta, 64, was sentenced to two years of imprisonment after he was convicted of leaking secrets about the company to his friend and business associate Galleon founder Raj Rajaratnam, who is serving an 11-year prison term for running one of the biggest insider trading schemes in US history.

Gupta, who is currently on bail while applying his conviction, was told to pay $6.2 million for legal fees to Goldman Sachs by federal Judge Jed Rakoff in New York.

Goldman had sought $6.9 million (approx. Rs 37.22 crore) as reimbursement from former McKinsey head Gupta, which he did not contest in the court.

After reviewing the firm's 542 pages of billing records related to the case, Judge Rakoff however cut the bill by 10 per cent noting that there were some extraneous entries in the 542
pages of billing records submitted by Goldman Sachs.
"On a few occasions the number of attorneys staffed on a task - while perhaps perfectly appropriate on the assumption that Goldman Sachs wished to spare no expense on a matter of great importance to it - exceeded what was reasonably necessary" under the statute, Rakoff wrote.
In 2008, Gupta's net worth was $84 million (approx. Rs 453 crore).
In addition to $6.2 million, his legal bill runs into more than $30 million (approx. Rs 162 crore).