An India-born woman, a former Intel executive and a key government informant in hedge fund founder Raj Rajaratnam and former Goldman director Rajat Gupta cases, has been sentenced to one year in prison and fined $1.5 million on insider trading charges.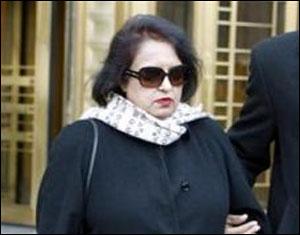 Roomy Khan, 54, was sentenced in Manhattan Federal court on Thursday by US District Judge Jed Rakoff to 12 months' imprisonment followed by three years of supervised release.
She was also ordered to pay $1.5 million in forfeiture.
Khan, who was born and raised in New Delhi, dabbed tears from her eyes during the sentencing proceeding, where Judge Rakoff credited her with "huge cooperation" in the Rajaratnam probe, which has been touted as the biggest hedge fund insider trading investigation in US history.
According to statements made during Khan's guilty plea proceeding, from 2004 through 2007 she provided Rajaratnam, Whitman and others with inside information relating to several companies, including Polycom and Google.
She allegedly earned $50 million while trading stocks.
A Master's in physics from Delhi University, Khan is one among a handful of women who have been charged in the US government's crackdown on insider trading at Wall Street, led by Indian-origin prosecutor Preet Bharara.
Khan had participated in insider trading schemes in which she provided material, nonpublic information about various publicly-traded companies to a number of individuals, including Rajaratnam and president and founder of Whitman Capital Doug Whitman.
She had pled guilty in October 2009 to securities fraud, conspiracy to commit securities fraud, and obstruction of justice pursuant to a cooperation deal with the US government.