Land acquisition for the Rs 52,000 crore Posco steel project, which resumed amidst tight security at Gobindpur village in Odisha's Jagatsinghpur district, is continuing peacefully today amidst tight security.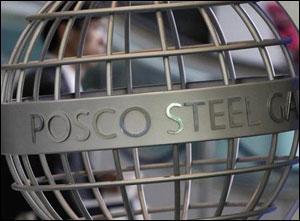 "Land acquisition for the steel project is continuing in a smooth and peaceful manner. Betel-vine plantations of only those who are willing are being demolished," District Collector S K Mallick said.
Two teams were engaged in the exercise, monitored by senior officials including the Collector and Superintendent of Police Satyabrata Bhoi.
On the spot payment was being made to villagers for their betel-vines, Mallick said.
Over 30 betel-vine plantations have been dismantled since yesterday and Rs 32 lakh (Rs 3.2 million) paid by cheque.
The fresh operation, which began yesterday, was to acquire an additional 700 acre for Posco's mega project with 2,000 acre having been acquired earlier, Additional District Magistrate Surjit Das said.
The acquisition process for the South Korean steel major's mega project was yesterday marked by claims and counter-claims of violence following allegations of Police crackdown on the project opponents and injuries to some villagers due to lathicharge.
Land acquisition had been halted for more than a year following violence during construction of a coastal road near the proposed project site in December, 2011.
The 12 platoons of police (about 400 personnel) deployed yesterday, were augmented with two more platoons while officials of Odisha's Industrial Infrastructure Development Corporation (IDCO) were also present, official sources said.
While the land acquisition was on at Gobindpur village, anti-project proponents demonstrated at Patna square in Dhinkia gram panchayat area, considered the epi-centre of the anti-Posco agitation.
The protesters including women and children sealed the Gobindapur-Dhinkia road with protesters from nearby areas like Ersama, Kujang and Jagatsinghpur gathering.
Leaders of Posco Pratirodh Sangram Samiti (PPSS), agitating against the project since 2005, alleged that the administration was forcibly acquiring land.
The district collector and superintendent of police denied this and said villagers were cooperating and no force was used.
CPI leader and local MP Bibhu Prasad Tarai, who joined the demonstrators, alleged that the exercise was illegal in the absence of a Memorandum of Understanding for the project.
As the MoU with the South Korean company lapsed in June 2010 and no fresh pact was signed with the steel major, the government must refrain from undertaking any project-related activities, he claimed.