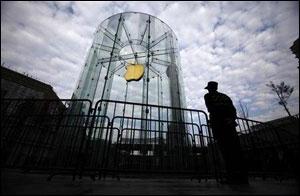 A US court has ruled that Samsung Electronics Co did not willfully infringe on some of Apple Inc's patents and denied a request by the US firm to raise patent damages awarded to it in its legal dispute against the South Korean firm, a court ruling showed on Wednesday.
Apple has sought to raise the $1.05 billion damages awarded to it after a US jury found in August that Samsung acted willfully when it violated several of Apple's patents, which could have formed the basis for the court to triple the damages owed by Samsung.
In her series of rulings filed late on Tuesday US time, US District Court Judge Lucy Koh also denied Samsung's request for a new trial. Samsung has said a major patent verdict in favor of Apple should be overturned.