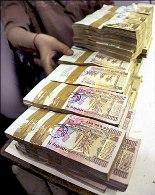 Global HR professionals working in the financial services industry have pinpointed pay issues as the primary focus of their operations, according them higher priority than talent management and employee engagement, according to a survey by Towers Watson.
According to a survey by Towers Watson of 130 senior human resources professionals from over 60 of the largest global banking and financial services organisations in the world, over a third viewed pay issues as the most important human resources priority.
Talent acquisition (23 per cent) and redesigning the employee value proposition (20 per cent) were also the other major issues for HR professionals.
In addition, two-thirds of the respondents believe that public service executive base salary levels have not yet stabilised, though there was general agreement that base salary levels for lower level employees have stabilised.
When asked what the biggest shift in pay policies will be in the next year, 40 per cent of the HR professionals identified risk adjustment to financials or incentive pools.
"Global financial institutions face many issues that connect human capital challenges across pay, performance, risk, regulation, culture and governance.
"Given the dramatic evolution of pay policies and structures, sufficient linkage to other human capital priorities such as talent management, risk culture and engagement are essential," Towers Watson Global Co-Lead (Talent and Rewards Financial Services Practice) Mark Shelton said. The survey of HR professionals was conducted in the first week of May.