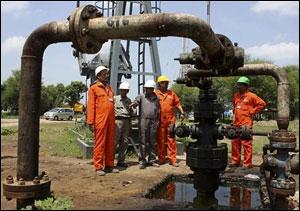 A $575 million share auction in state-run Oil India Ltd was fully covered on Friday, provisional data from the National Stock Exchange showed.
By 2.59 pm, the offer had received bids for 75 million shares at an indicative weighted average price of Rs 518.04 per share. Final bid numbers will be available later on Friday.
The government was selling 60.11 million shares, or 10 per cent of the company's stock, and had set a floor price of Rs 510 per share for bids.
Under new rules announced last month, India's markets regulator allows bidders at share auctions to modify or cancel their orders if they deposit 100 per cent of their order value upfront. Investors who bid without making a deposit are only allowed to make upward changes to their bids.