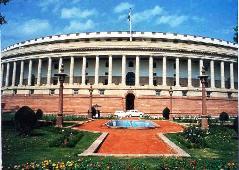 Oil Ministry has moved a Cabinet note for nearly doubling the price of natural gas produced by state-owned ONGC and OIL to $8-8.5 per million British thermal unit in the current year itself and for Reliance Industries from April 2014.

The Ministry in a draft Cabinet note proposed accepting in toto the Rangarajan Committee recommendation of pricing domestically produced natural gas at an average of international hub prices and cost of imported LNG instead of present mechanism of market discovery.

Sources said ministry wants the pricing formula proposed by the panel to apply to all forms of natural gas -- conventional, shale and coal-bed methane.

Also, the price determined shall be applicable to all consuming sectors uniformly.

It, they said, wanted the new pricing guidelines to apply from 2013 itself on all domestically produced gas barring cases where it is either governed by a definite formula prescribed in the Production Sharing Contract or the government had previously fixed a tenure for the same.

This essentially meant that RIL would get the new price only from April 1, 2014 upon expiry of the fixed five-year term of current rate of $4.205 per million British thermal unit.

State-owned
Oil and Natural Gas Corporation and Oil India Ltd can, however, get the new rates this year itself for gas they produce from fields given to them on nomination basis by the government. Gas from nominated fields, called APM gas, is currently priced at $4.2 per mmBtu.
The Rangarajan panel suggested rates may also not apply to BG Group-operated Panna/Mukta and Tapti fields in the western offshore as the current rates of $5.57-5.73 per mmBtu for the fuel produced from these are derived from a pre-defined formula detailed in the PSC.
However, Cairn India's eastern offshore Ravva gas, which is currently priced at $3.5-4.3 per mmBtu, may be revised as per the committee recommendations.
Sources said the ministry said the Rangarajan panel report needs to be accepted so that domestically produced natural gas prices are fixed in a fair manner and in a way that incentivises production.
The panel had suggested taking a weighted average of the US, Europe and Japanese gas hubs or market price and then averaging it with the net imported price of liquefied natural gas to give sale price of domestically produced gas.
Taking last year's publicly available consumption numbers and the prevailing price of gas in the three markets, the formula suggested by the Rangarajan committee gives $8-8.5 per mmBtu as the price of domestic gas.