Government has fixed the base price at Rs 145 per share for 9.5 per cent stake sale in NTPC, a discount of 4.79 per cent, to garner over Rs 11,300 crore (Rs 113 billion) for the exchequer.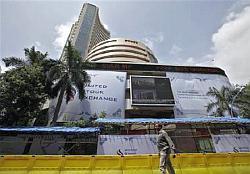 The government proposes to sell 78.32 crore (Rs 783.2 million) shares or 9.5 per cent stake in the country's largest power producer through offer for sale (OFS) route. The auction would take place tomorrow.

Shares of NTPC on Tuesday closed at Rs 152.30, down 2.12 per cent from its previous close on BSE.

The NTPC disinvestment, which would be the biggest so far this fiscal, would help the government garner over Rs 11,300 crore at the floor price.

In a filing to BSE, NTPC said "the floor price for the sale in terms of the Sebi OFS circular shall be Rs 145 per equity share of NTPC (the Floor Price)".

The Empowered Group of Ministers, headed by Finance Minister P Chidambaram, had yesterday decided on the floor price and date of the share sale. The pricing was, however, revealed only after close of market hours on Tuesday.

The government holds 84.50
per cent stake in NTPC. Post stake sale, its holding will come down to 75 per cent.
Citigroup, Morgan Stanley, Goldman Sachs, Deutsche Equities, Kotak Securities and SBI Cap Securities are acting as the merchant bankers for the stake sale.
Disinvestment Secretary Ravi Mathur had yesterday said the government would be able to raise around Rs 12,000 crore (Rs 120 billion) from the NTPC stake sale.
The Disinvestment Department had recently completed 10 per cent stake sale of Oil India (OIL) through, garnering over Rs 3,141 crore (Rs 31.41 billion).
Besides OIL, the government has raised Rs 6,000 crore (Rs 60 billion) from stake sale in NMDC, Rs 800 crore (Rs 8 billion) from Hindustan Copper and Rs 125 crore (Rs 1.25 billion) from NBCC.
The government has raised over Rs 10,000 crore though PSU stake sale so far this fiscal.
The government has budgeted to raise Rs 30,000 crore (Rs 300 billion) through disinvestment in the current fiscal. Mathur, however, had said that it would be difficult to achieve the target and the government would be able to raise about Rs 27,000 crore.