Falling for the fifth straight day, the BSE benchmark Sensex today closed 20 points lower after wiping out initial gains on a bout of profit-selling in bluechips like NTPC, CIL, ICICI Bank [ Get Quote ] and L&T.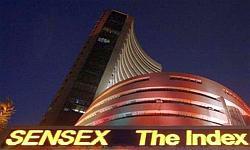 The Bombay Stock Exchange [ Images ] 30-share gauge resumed better and touched an intra-day high of 19,767.25, a rise of over 107 points, on the back of firm Asian stocks following a rally on Wall Street yesterday.

However, profit-booking activity after the mid-session pulled the 30-share Sensex down to settle at 19,639.72, a fall of 20.10 points or 0.10 per cent. It has lost over 360 points in the last five sessions.

Among notable losers today, NTPC fell by 2.12 per cent to Rs 152.30 ahead of the government's 9.5 per cent stake sale at Rs 145 per share.

Coal India [ Images ] ended with over 2 per cent loss, followed L&T, ICICI Bank and HUL which fell in 1.1-1.6 per cent range. Jindal Steel and HDFC [ Get Quote ] led the gainers on good buying.

Traders said the market remained volatile during the session as firming global trend and selective buying saved the market from any major fall.

The 50-issue S&P CNX Nifty of the NSE survived to end in positive terrain, snapping its four session of losses, at 5,959.20, up by a mere 2.30 points or 0.04 per cent.

With third quarter earnings by major corporates mostly in, all eyes are now set on the forthcoming Union Budget, brokers said.

Globally, barring South Korea which ended slightly weak, other Asian stocks finished with good gains. Japanese stocks surged to their highest level to four years high on fall in yen to multi-year lows.

Europe was trading mixed in afternoon trade.

Most Asian indices finished with gains in 0.06-3.77 per cent range while in Europe, Germany [ Images ] and London [ Images ] indices moved up by 0.10-0.49 per cent, while France [ Images ] (CAC) was down by 0.06 per cent.

Turning to the local market, 18 scrips out of the 30-share Sensex declined while 12 finished with gains.

Major losers from the Sensex were NTPC (2.12 per cent), Coal India (2.03 per cent), BHEL (1.72 per cent), HUL (1.60 per cent), L&T (1.23 per cent), ICICI Bank (1.08 per cent) and ONGC [ Get Quote ] (0.98 per cent).

However, Jindal Steel rose by 2.69 per cent, followed by Maruti Suzuki [ Images ] (1.61 per cent), HDFC (1.25 per cent), TCS [ Get Quote ] (0.82 per cent), HindalcoInd (0.79 per cent), ITC (0.78 per cent) and Tata Steel [ Get Quote ] (0.63 per cent).

Among the sectoral indices, the BSE-CG fell by 0.93 per cent, BSE-PSU 0.57 per cent, BSE-Power 0.49 per cent and BSE-Bankex 0.34 per cent.

In gainers, BSE-Realty moved up by 0.78 per cent, BSE-IT 0.62 per cent and BSE-Teck 0.60 per cent.

The market breadth turned positive as 1,165 stocks firmed up, 1,017 stocks ended with losses while 804 stocks closed unchanged.

The total turnover dropped to Rs 2,097.69 crore (Rs 20.97 billion) from Rs 2,452.60 crore (Rs 24.52 billion) yesterday (Tuesday).

Foreign Institutional Investors (FIIs) bought shares worth a net Rs 489.27 crore (Rs 4.89 billion) on Tuesday as per provisional data from the stock exchanges.