Member of Parliament can now allocate funds from their local area development scheme kitty for rural employment guarantee programmes. The move that comes just ahead of Budget is aimed at providing the much-needed fiscal cushion to operate the UPA's most ambitious social security programme, the Mahatma Gandhi National Rural Employment Guarantee Act (MNREGA).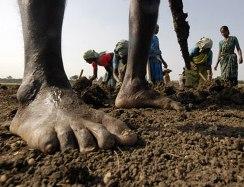 "Funds from Member of Parliament Local Area Development (MPLAD) scheme can be converged with MNREGA under approval by the zila panchayat for creation of more durable assets," an official release said.

The Centre allocates Rs 40,000 crore (Rs 400 billion) every year for running the MNREGA programme. Under the scheme, permanent assets such as ponds, canals and roads are created to support the rural economy and agriculture.

Labourers are also assured of minimum 100 days of work. Under MPLAD, the government allocates, Rs 4,010 crore (Rs 40.1 billion) for 802 members of Parliament (Lok Sabha and Rajya Sabha) every year from April 1 to undertake developmental works in their constituency.

Before April 2011, this allocation was Rs 2 crore (Rs 20 million) per MP each year.

Officials said it is not mandatory for MPs to spend their MPLAD fund for NREGA works. But once an MP decides to use MPLAD funds for NREGA, he cannot withdraw the money till the project is complete.

The move, officials said, is expected to give the much-needed financial cushion to the government in a year when its fiscal position is expected to be poor that could prompt either a cut or rationalisation in its social sector spending.

The rationalisation in MNREGA allocation has become all the more imperative since 2010, when wages under MNREGA were linked to the consumer price index for agricultural labour (CPI-AL). This inflates the annual expenditure in the programme.

The all-India weighted average of CPI-AL has risen by over 40 per cent between 2007 and 2011, a recent report by the agriculture ministry showed.

The accounts for the expenditure incurred will be maintained by MPLAD and MNREGA.