In yet another example of the growing convergence of views between North Block and Mint Road, the finance ministry has decided to freeze the long-pending proposal to have a separate debt management office (DMO).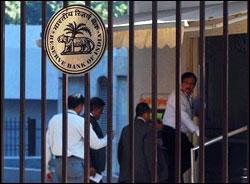 Sources familiar with the developments said following Finance Minister P Chidambaram's reinduction as the finance minister, the Reserve Bank of India (RBI) wrote to the ministry, reiterating its objection to the proposal and its concerns over a separate DMO. The central bank's views also had board approval.
The sources said the ministry had agreed with the RBI's views that at a time when the country had a high fiscal deficit, the move might not be appropriate.
During the Budget announcement in March this year, former finance minister Pranab Mukherjee had said the Public Debt Management Agency of India Bill, 2012, which would pave the way for a separate DMO, would be introduced in the Budget session of Parliament. But that did not happen.
The central bank argues that at a time when the fiscal deficit is running high, the government is borrowing huge amounts from the market and the RBI has performed its responsibility rather well as the government's debt manager, there is no point in changing the present set-up.
The RBI Act mandates the central bank to be the debt manager of the central government and it also manages the debt of state governments. The central bank manages the government's borrowing programme and despite an  increase in the government's borrowing over the years, the RBI has managed to complete the borrowing programme in a cost-effective manner.
In the Budget of 2007-08, a separate DMO proposal was mooted, following which a middle office was set up in the finance ministry in September 2008. It was proposed by the ministry the middle office be merged with the DMO after it was established.
The idea behind separating the DMO from the RBI was to avoid conflict of interest, as the RBI being the monetary policy authority might have a bias towards a lower interest rate regime to reduce the cost of sovereign debt even if it compromised its anti-inflationary stance. This argument, however, has been denied by the central bank on the grounds that sovereign debt management is more than a resource-raising programme and should be seen as part of a broader macroeconomic management framework, involving various trade-offs.