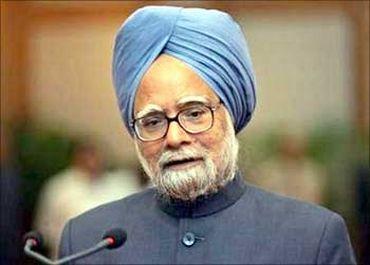 With Trinamool Congress [ Images ] walking out of the United Progressive Alliance [ Images ], a reshuffle-cum-expansion of the Union Council of Ministers is likely to be effected this week.
According to Congress sources, a reshuffle could be a substantial affair with Prime Minister Manmohan Singh [ Images ] giving ample hint of pursuing the reforms agenda.
Road and Transport Minister C P Joshi has already been given additional charge of the Railways, a key ministry which has come to Congress kitty after 16 years. The talk is that efficiency will be the watch word in the reshuffle exercise especially in infrastructure ministries to get the economy going.
With six ministers from TC leaving, two to three Congress leaders from West Bengal [ Images ] are expected to be accommodated.
The names of Deepa Dashmunshi and Adhir Choudhury, known detractors of TC chief Mamata Banerjee [ Images ], and West Bengal PCC chief Pradeep Bhatacharjee are doing the rounds.
A reshuffle of the AICC secretariat is also on the cards and Amethi MP Rahul Gandhi [ Images ] is expected to get a larger responsibility in the organisation.
The exercise could see some of the ministers holding charges of two ministries losing one of the portfolios.
Beni Prasad Verma, Kapil Sibal [ Images ], C P Joshi, Veerappa Moily [ Images ] and Vayalar Ravi are some of the ministers holding charge of two ministries.

With death of Vilasrao Deshmukh [ Images ], there is a vacancy for a cabinet minister from Maharashtra [ Images ].
Three to four young leaders close to Rahul are also likely to be inducted. Names of Meenakhshi Natarajan and Manik Tagore are in circulation.
Tourism Minister Subodh Kant Sahai and Coal Minister Sriprakash Jaisawal have come under attack from the Opposition on the coal block allocation issue.
There are two vacancies after representatives of DMK -- A Raja and Dayanidhi Maran [ Images ] -- resigned following controversies in the 2G scam.
Changes in the government and the party could be taking place in tandem as there is a possibility that some of the ministers would be drafted for party work, sources said.
They said the exercise could be a major affair as the team would be leading the party in the next Lok Sabha elections.
The reshuffle could take place either this week or next month.
The likely date of reshuffle is either September 25 or 28 as President Pranab Mukherjee [ Images ] will visit Kashmir [ Images ] on September 26 and 27. The period from September 30 to October 15 is considered inauspicious as per Hindu calendar.
Image: Prime Minister Manmohan Singh has given ample hint  of pursuing the reforms agenda