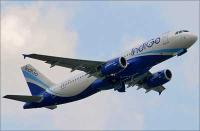 IndiGo managed to buck the trend and post Rs 650-crore (Rs 6.5 billion) profit last financial year because it kept its non-fuel costs low, said the airline's president, Aditya Ghosh.
The largest low-cost airline posted an 18 per cent growth in net profits, even as all other airlines, except SpiceJet, bled in 2011.
Ghosh attributes this success to various factors, including cost control measures, strict maintenance, lower distribution costs and almost no interest costs.
"We are sufficiently capitalised and not looking to raise debt or equity at the moment," he said.
The fleet of IndiGo, launched by entrepreneur Rahul Bhatia and former US Airways CEO Rakesh Gangwal, has 44 planes.
It will add 16 more Airbus A320s by next December.
"It is a simple function of keeping costs low. At the end of 2010-11, we had 38 planes and 3,750 employees, that is, 99 employees per aircraft," he said.
At a time when rising crude oil prices are hurting airlines' bottom lines across the world, the Gurgaon-based airline is trying to lower its costs.
"Our focus is to lower operating fuel costs and we have a dedicated
team working on it," he added.
In comparison to other full-service carriers, the airline has a far lower spend on sales and distribution and maintenance cost.
"We don't participate in global distribution systems. Our distribution costs are far less," Ghosh said.
Having a single fleet with common training and spares also helps in reducing expense.
Another factor contributing to the profitability of the airline is its practice of doing a sale and lease-back of planes.
Sale and lease-back is a common practice in aviation and each transaction can earn an airline $3-5 million. Analysts say this amount is spread over the lease period.
"We added 14 planes in 2011 and carried over nine million passengers, a growth of 47 per cent in passenger numbers. Our total revenues grew by 48 per cent and the profit before tax rose 45 per cent," Ghosh added.
He said it was too early to comment on international operations.
The airline last month launched its operations in short-haul sectors like Dubai, Singapore and Bangkok, from Delhi and Mumbai.
"We are the only Indian LCC connecting these destinations. The response so far has been very good."