Low-cost carrier (LCC) SpiceJet plans to set up five more regional hubs in an effort to connect all major towns through its 70-seater Bombardier aircraft.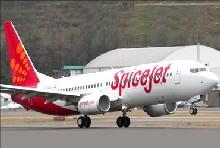 The Gurgaon-based carrier, which started its regional operations from Hyderabad last month, plans to have the hubs in Chennai, Ahmedabad, Bangalore, Kolkata and Delhi.

"We plan to have five Bombardier aircraft at each hub. All the airports selected provide enough opportunity in the one-and-a-half hour flying hour," said a senior SpiceJet official.

He said SpiceJet wanted Mumbai to be one of its hubs, but had to shift to Ahmedabad because of constraints at the airport.

The Hyderabad base connects Aurangabad, Bhopal, Indore, Mangalore, Rajahmundry, Tirupati and Vijayawada.

"There is more opportunity in the south and west. We will soon launch our operations in Chennai and Ahmedabad. Decisions about the launch of other bases have not been taken yet," said the official.

The airline has ordered 30 planes from Bombardier - 15 fixed and 15 others on options. It will receive the first 15 planes by July. "A decision to confirm the order on options will be taken by March," said the official.

It has added nine planes in the last nine months and plans to add five more Boeing 737s by May to increase its fleet size to 35.

With the second phase of growth in aviation expected to come from tier-II and -III
cities, almost all airlines are looking to connect smaller cities for expansion.
Jet Airways plans to increase connectivity between smaller cities where there is demand but no connectivity.
Air India is also servicing cities like Gwalior and Kanpur. It recently announced it would directly connect Port Blair and Delhi.
With Kingfisher announcing to discontinue its low-cost operations, a lot of opportunities have been created in this space.
According to the Directorate General of Civil Aviation data for August, Kingfisher Red flew around 10 per cent of the 4.8 million domestic passengers.
Jet Airways flew 26.3 per cent of the passengers, followed by Kingfisher (18.8 per cent), IndiGo (18.7 per cent) and SpiceJet (13.4 per cent).
SpiceJet reported a net loss of Rs 71.9 crore (Rs 719 million) for the first quarter because of high oil prices.
It had closed the previous corresponding period with a net profit of Rs 55.2 crore (Rs 552 million). Its stocks were down 1.88 per cent at Rs 20.85 on the Bombay Stock Exchange.