Just a month earlier, he referred to Hindustan Unilever as an underperformer while announcing parent Unilever's results for 2009. However, the Anglo-Dutch company's global CEO, Paul Polman, was more generous in his views today.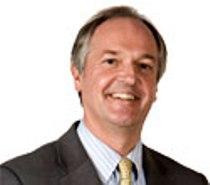 Speaking to the media at the Bru Café on the 'Street' (so-called, since it doubles as an informal meeting place for employees and the company's branded shops) at HUL's new headquarters at Andheri in northwest Mumbai on Tuesday, Polman said he had been referring to the vast potential of the company - "the potential to create in the next few years what we have achieved in the last 75 years".
Polman, on his third visit to India in little over a year, said his company's 170,000 employees across the globe and he were fast learning "how to climb mountains, as the market place was no longer a smooth surface".
At the heart of his strategy, therefore, is speed, increasingly becoming a competitive advantage. "This is inevitable. We are in the fast-moving consumer goods business and I didn't invent that term," Polman said, adding that the entire company had to move to a renewed sense of urgency.
HUL, he was quick to add, was moving in that direction. It's the leader in 10 out of 12 product categories in India and 75 per cent of the categories were gaining market share.
HUL Managing Director Nitin Paranjpe said the growth in market share had been consistent. Dove, for example, had grown from zero to seven per cent. Sunsilk, post-relaunch, was doing wonders. And, Pureit (the water purifier) has reached two million homes.
Polman, who took a quick round of the U-Shop on the Street, which stocks all HUL products, said the speed was evident from the fact that 90 per cent of the products in the shop just weren't there a year earlier. "That's the speed I prefer," he said, with Paranjpe and Non-Executive Chairman Harish Manwani smiling approvingly.
The Unilever CEO is obviously walking the talk. He spent the better part of Sunday (he is on a three-day trip) visiting consumers' homes in Vile Parle, a Mumbai suburb, trying to understand their needs and aspirations. Polman, who is flying out to Bangkok late in the night, would do the same there, before repeating the exercise in Australia and Singapore.
To maintain its leadership position in India, the 54-year old Dutchman has laid out a clear roadmap: Focus on the consumer across the pyramid, focus on innovations, implement these quickly and track the results closely. All these will double the company's business in India. Polman, however, wouldn't give a timeframe for this, as he doesn't want competition to wake up.
In a reference to the war between HUL and Procter & Gamble, Polman said reaction to competition was inevitable. "But, we did not compromise on product quality like our competitors did, even as we brought down price," he said. Citing the example of mid-market brand Rin, he said the company had better technology to deal with brightness and stain removal than its competitor.
There are certain categories the FMCG major is keeping its eye on in the Indian subcontinent. Personal care (including facecare, haircare, bodycare) and fabric softeners are a few, besides the bread and butter categories of soaps and detergents.
On certain other products such as Dove, the focus would be on building the category. For instance, HUL was in the process of rolling out a Dove anti-dandruff shampoo shortly, something developed in other markets, he said. Then, products such as Pureit would be exported to markets such as Indonesia, Brazil and China.
For Polman, market development meant "being able to adjust price points at different value equations, communicating habit creation better, deeper penetration and reach, etc."
At the moment, Hindustan Unilever reaches one million outlets every week. The company is preparing for the future by developing technology that helps it serve consumers better. Manwani said, "We were showing a technology to Polman that allows us to track a stock-keeping unit in remote parts of the country in real-time".
Polman hoped these collective efforts on the brand, technology, innovation and consumer fronts by the HUL brass showed the company was in safe hands.
He was particularly happy that the engagement score of Unilever's employees (done by an outside agency) had gone up 500 basis points in a year, and HUL was in the top quartile of the best performing companies.