Naresh Goyal-promoted Jet Airways, which is awaiting regulatory approvals to offload 24 per cent stake to the Gulf carrier Etihad Airways, is likely to submit a revised deal to the Foreign Investment Promotion Board shortly, sources said.
"The airline has already submitted the amended deal with Etihad to market regulator Sebi and competition watchdog CCI. It is expected to submit the same to the FIPB shortly," sources close to the development said on Monday.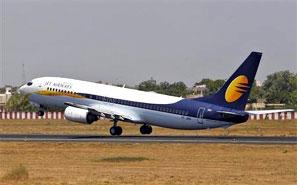 Foreign Investment Promotion Board (FIPB) which comes under the finance ministry had deferred a decision on the Jet proposal at its meeting last week and reportedly sought more clarity on the ownership structure and the level of control to be exercised by the Gulf carrier.
Sebi had also reportedly objected to the deal because of its proposed structure. Current FDI rules allow foreign carriers to take up to 49 per cent stake in domestic airlines but the way the deal was structured earlier would have led to "effective control" with Etihad.
The next FIPB meeting slated for July 5, however, does not have a Jet proposal on its agenda.
Sources also said that Jet has told the aviation ministry that there is no threat of Etihad opting out of the proposed Rs 2,058-crore (Rs 20.58 billion) deal.
"Both the aviation and the corporate affairs ministries are likely to share views on the amended deal pact," they said.
As part of the deal, Jet plans to shift its Brussels hub to Abu Dhabi, which is being reportedly objected to by the industry as well as the government as such a move could give undue advantages to Etihad over the domestic industry.
The CCI too had raised similar concerns and sought further clarity on the deal.
Apart from issuing 27.2 million preferential shares to Etihad at Rs 754 per share, the deal also involves a $600-million commitment from Etihad to further strengthen Jet's financial position.
Besides, Etihad would also inject $220 million to create and strengthen a wide-ranging partnership between the two carriers, including a strong code share arrangement.
Etihad also paid $70 million in February to purchase Jet's three pairs of Heathrow slots through a sale and lease back agreement. Jet continues to operate flights to London utilising these slots.
Etihad would also invest $150 million "by way of a majority equity investment in Jet Airways' frequent flyer programme Jet Privilege.