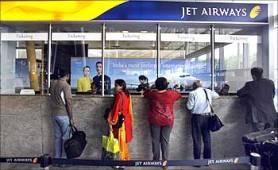 Jet Airways, the country's largest air carrier, expects its debt burden to decline to Rs 8,250 crore (Rs 82.5 billion) by the end of this financial year, a fall of nearly 50 per cent from the corresponding figure at the end of 2011-12.

The process has got an impetus from the proposed equity infusion by Etihad Airways of Abu Dhabi.

"The infusion from Etihad will help Jet to repay most of its working capital loan.

"The company will then be left with only debt related to aircraft acquisition that it can service comfortably," says Jasdeep Walia, aviation analyst at Kotak Institutional Equity.

He estimates Jet's working capital loans to be around Rs 5,000 crore (Rs 50 billion) of its total debt of Rs 13,200 crore (Rs 132 billion) at the end of FY12.

Etihad is to invest around Rs 2,100 crore (Rs 21 billion) for a 24 per cent equity stake in the company. It is to also take 50.1 per cent in Jet Privilege, the customer loyalty programme, for around Rs 850 crore (Rs 8.5 billion).

In addition, Jet entered into a sale and lease-back agreement with Etihad for its three pairs of slots at London's Heathrow airport for five years.

This deal is valued at around $70 million (Rs 385 crore).

If Jet is able to repay that loan at the end of the period, the slot ownership will revert to it.

Jet's gross debt peaked at Rs 16,261 crore (Rs 162.61 billion) at the end of March 2009.

Since then, it has been steadily paring its loan burden through internal accrual, profits from sale and lease-back of aircraft and an almost complete freeze on capital expenditure.

In these four years, the company cut its debt by Rs 4,800 crore, including $400 million repaid in FY13.

"We had a debt reduction plan of roughly $400 mn in FY13.

The last part of that got accomplished due to sale and lease-back of some of our airplanes, as well as some cash we got through sale and lease-back of slots and other cash inflows," said K G Vishwanath, the airline's vice-president, commercial strategy and investor relations, during Jet analysts'
conference call to discuss the fourth quarter results.
In FY14, the company plans to cut debt by a further $500 mn (Rs 2,800 crore), nearly 40 per cent of which will come from the equity infusion by Etihad.
The debt-watch has enabled it to check its interest rate obligations during a period when these were heading north.
In the past three years, Jet's interest outgo rose by just 12 per cent, to Rs 1,119 crore (Rs 11.19 billion) in FY13 from Rs 993 crore (Rs 9.93 billion) in FY10.
During this period, revenues were up 50 per cent while operating profits remained stagnant.
The outgo is likely to fall further this year, once the deal with Etihad gets formal approval from government agencies.
As the interest payment accounted for 72 per cent of Jet's operating profit in 2012-13, the savings will greatly boost its bottom line.
This has turned many analysts bullish on Jet.
"The deal will Etihad will not provide Jet with the much needed cash (but) will help it to scale up its profitable international operations and thus de-risk itself from losses in its domestic operations," says Rashesh Shah, aviation analyst at ICICI Securities.
They also warn that Jet's finances could change for the worse if profitability takes a hit, either due to a further fall in the rupee or a spike in crude oil prices.
"Jet still has limited ability to generate profits and its profitability has shown a lot of volatility in recent quarters.
"Things could change dramatically if the rupee falls further or international crude oil prices spike," says Walia of Kotak Institutional Equity. Besides, Jet needs to generate resources to fund its next round of aircraft acquisition, for its long-term expansion programme.
Meanwhile, passenger growth in India has been stagnating, making it tough for airlines to pass on cost increases or raise their yields.