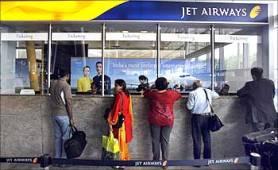 The no-frills brand is poised for a big leap by debuting in some international routes as well.

In May 2009, Jet Airways launched Jet Konnect, a no-frills brand, to take on IndiGo and Spicejet, which were slowly chipping away its market share.

Jet Airways Chairman Naresh Goyal's gamble clicked and today Konnect accounts for 60 per cent of the airline's domestic capacity.

Along with JetLite, it's roughly twice the number of low-fare seats of Indigo and SpiceJet combined.

That's an irony considering that Goyal had dismissed the low-cost carrier model as untenable just three years ago.

On the contrary, Jet is now set to take a big leap forward on its no-frills strategy.

The airline is planning to introduce no-frills service flights in the price sensitive markets in the Gulf region.

This will mark another break in tradition, as till now, the airline has offered only full service products on its international routes that account for about 65 per cent of its total revenue.

The airline flies to 24 international routes, including 10 cities in the Gulf which account for nearly 40 per cent of all outbound traffic from India.

Jet's loads on the Gulf sector were 73.9 per cent (in the second quarter of this financial year) and 77.9 per cent (in the first quarter), which were lower than the loads on the US, UK and South East Asia sectors in the same period.

A couple of reasons have prompted the Jet management to take a relook at its Gulf operations.

First, competition in the sector has increased. The newest entrant, IndiGo, has begun luring away passengers with attractive fares.

The others who operate on this route are Air India, Air India Express and Kingfisher Airlines, besides a host of foreign carriers -- both from the full service segment (Emirates, Qatar, Gulf Air etc) as well as low-fare ones (Air Arabia, Bahrain Air).

The other crucial factor is passenger profile."On the Gulf routes, the traffic mostly comprises migrant labour.

"They want the lowest of the fares.

"There is not much demand for business class seats except on the Dubai route," an airline source says.

Moreover , Jet and Air India are point to point carriers. In contrast Emirates and other Gulf airlines carry 60-70 per cent of passengers onward to Europe, the US or Africa and hence are able to fill up business class seats.

"If an airline operating on this route drops its fares by even Rs 100,
it will wean away passengers from other carriers,'' an industry source says.
"There is no brand loyalty on the Gulf routes. It is all price-driven.
Even full service carriers like Emirates drop their fares to compete with low cost carriers  in the lean season," another official from a Gulf carrier says.
Jet had initiated its shift towards no-frills service a few months ago when it began operating Boeing 737 planes with eight business class seats (used on domestic routes for Konnect service) instead of planes with 16 business class seats on certain routes such as Jeddah, Doha and Bahrain.
In his address to shareholders at the company's annual general meeting in August, Goyal had clearly spelt out the challenges and options before the airline.
Goyal said there was an issue about viability of full service business model as these airlines were dropping fares to match competition.
"The resultant consequence has been the high growth rate with sharp drop in yields and escalation of the break-even seat factors,'' he said.
The break even seat factor for Jet Airways in Q2 was 95.2 per cent whereas for Jetlite it was 99.3 per cent.
The airline posted a loss of Rs 713 crore (Rs 7.13 billion) on a consolidated basis in the second quarter of 2012 compared to a profit of Rs 12.40 crore (Rs 124 million) in the second quarter of last year.
The other issue, Goyal said, was in- depth review of business model, including a review of multiplicity of brands being offered in the market.
"The airline will soon be making changes to enable us to compete more effectively and retain our dominant position in the Indian market", he said.
Separately the airline's senior management told analysts that the airline will eventually have two brands -- one in full service and other in low cost -- following a rigorous cost rationalisation exercise.
Currently Jet has three brands (one in full service and two in low cost -- Jetlite and Konnect).
Kapil Kaul of Centre for Asia Pacific Aviation said, "We expect Jet's LCC strategy would be to merge the two low cost brands into one.
"It could be Konnect as it has a positive customer appeal.
"They need to modernise the fleet which will give them operational efficiency, get a new management team which is oriented towards low cost operations and strengthen route network.
"I expect the low cost carrier to operate in the Gulf and South East Asia routes."