With Jet Airways giving final touches to a stake sale deal with Etihad, pilots of the Indian airline met in New Delhi on Friday over delay in payment of salary arrears but decided not to proceed with any protest before meeting the management next week.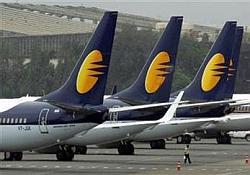 At a four-hour meeting, about a hundred pilots of the premier private carrier decided to meet again in Mumbai on Thursday, after a meeting with the management scheduled on Tuesday, sources at the meeting said.

The pilots do not want their salary arrears of 2011, running into over Rs 10 crore (Rs 100 million), to go on accumulating like that of grounded Kingfisher Airlines, but wanted to see what the management's response would be, the sources said.

Jet Airways' technicians, who have been wearing black bands since last week to protest an alleged move to freeze salary hikes over the next 2-3 years, have called off their protest after the management asked them to come for talks on February 7.

Earlier this week, the private carrier decided to give a hike of up to Rs 18,000 (Rs 180 billion) to its around 7,500
ground staff by signing a tripartite agreement with one of its employees unions, the All India Jet Airways Officers Association.
The association claims representation of 7,500 employees out of the nearly 13,000 workforce. The wage agreement is expected to benefit around 7,500 ground employees which include reservation staff, cargo, cabin, ground service, security among others.
The settlement with the management was reached after intense negotiations over 20 months, sources said, adding, "It will be effective till March 2014."
Earlier, a Jet spokesperson said the airline "has always met and will continue to honour all its obligations to its employees and external stakeholders alike."