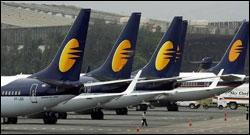 India's second biggest carrier Jet Airways, which is in final talks to sell a stake to Abu Dhabi's Etihad Airways, swung to a quarterly profit on Friday due to rising fares in an under-serviced market and on lower costs.
Jet earned Rs 85 crore (Rs 850 million) for October-December, exceeding estimates for the third straight quarter, compared with a loss of Rs 101 crore (Rs 1.01 billion) a year back.
Analysts were expecting a profit of Rs 27.85 crore (Rs 278.5 million), according to Thomson Reuters.