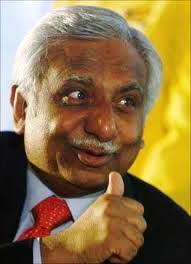 Jet Airways chief Naresh Goyal on Wednesday met Finance Minister P Chidambaram here as a controversy raged over the airline's Rs 2,058 crore (Rs 20.58 billion) stake sale deal with Abu Dhabi-based Etihad Airways.

Goyal, who had a short meeting with the minister, did not speak to mediapersons at the North Block headquarters of the Finance Ministry.

His meeting came in the backdrop of a controversy raked up by some politicians including those from Bharatiya Janata Party, Communist Party of India and Trinamool Congress, who objected to the sale of 24 per cent of Jet's equity to Etihad at a cost of Rs 2,058 crore, saying it was not in the national interests.

Goyal owns 51 per cent stake in Jet.

On June 13, the Foreign Investment Promotion Board deferred a decision on the deal, saying it required more clarity on control and ownership structure of Jet after the deal was implemented.

The controversy forced the Prime Minister's Office to come out with a statement, saying while the stake sale matter was still under examination of the FIPB and other ministries and departments concerned.

It also rebutted reports claiming differences among ministries over the Air Services Agreement between India and Abu Dhabi, soon after the Jet-Etihad deal was signed.

The Opposition members of Parliament and leaders had claimed that granting of air traffic rights to fly 36,000 seats per week to Etihad would adversely affect the interests of Indian carriers.

The government has maintained that the Prime Minister had last month directed that the India-Abu Dhabi ASA should not be operationalised till it was discussed in the Union Cabinet.

"In the interest of wider consultations and greater transparency, the Prime Minister directed that the matter may be brought to the Cabinet for a decision before operationalising any agreements that may be arrived at by the government with the other party," a June 13 PMO note said.
Image: Naresh Goyal