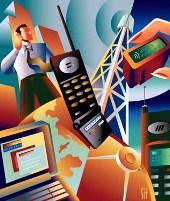 At their peak in 2006 and 2007, mobile operators were the wonder kids of India Inc, seeing rapid growth and generating immense wealth for shareholders.

This was despite the fact that their rates to millions of new customers joining the network every month were among the world's lowest.

It seemed nothing could go wrong.

For a while, Bharti Airtel and Reliance Communications, the two leading operators, joined the league of India's most valuable firms.

Five years later, after a haircut, shareholders have deserted the sector. And, the majority of the telecom industry is reeling.

As of March, the industry had accumulated total debt of Rs 1,85,720 crore (Rs 1,857.2 billion), two and half times the debt four years earlier, according to estimates by PricewaterhouseCoopers.

It expects the debt to rise to about Rs 4,00,000 crore (Rs 4,000 billion) by the end of March 2016, provided the coming 2G spectrum auction sees aggressive bidding and the government goes ahead with the Telecom Regulatory Authority of India's recommendation to re-farm 900-MHz spectrum in 2014.

Experts
say the crisis could have been averted if the industry had the earning power to service the debt. But making money in the telecom sector is getting harder day by day.
"Except a few, most telecom operators have negative free cash flow and are dependent on borrowings to sustain their day-to-day operations," says a telecom analyst with a brokerage firm in Mumbai.
He isn't exaggerating.
In FY09, every rupee of operating profit supported three rupees of debt. Now, this has risen to five and is estimated to increase to 7.4 by FY16.
With the operating margin (operating profit as percentage of revenue) below 30 per cent, the industry is in a financially unsustainable position.
The effects are already visible.
In the last financial year, only three of the 11 active mobile operators reported net profits and only one operator (Bharti Airtel)'s return on capital employed (RoCE) was in double digits (13 per cent).
Five years earlier, Bharti Airtel's RoCE stood at 35 per cent, drawing investors to the company.