Nearly 30 per cent travellers from India to Turkey, a fast-growing tourism market, have cancelled their bookings for the summer season, according to tour operators, following civil unrest there.

India is not the top-most contributor to arrivals, but one of the fast-growing markets for the transcontinental nation. Cheaper airfares to the destination have encouraged Indian tourists to make Turkey their gateway to Europe.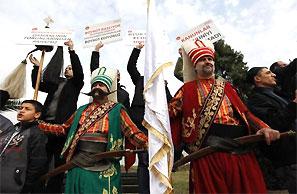 Travel companies have been seeing cancellations and enquiries on safety issues are piling up. Bookings for the next couple of months have stopped.

"I have deferred my own plans for now because of the situation there," said Subhash Goyal, president, Indian Association of Tour Operators. "Some people are still travelling to Turkey to regions where no riots have taken place, but no bookings are happening as of now."

Between January and April 2013, around 24,500 Indian tourists travelled to Turkey. This was an increase of 21.6 per cent over the corresponding period last year. Turkey gets over 14 million foreign tourists. "Turkey has been a very popular destination over the last few years, especially for families," said Sharat Dhall, president, Yatra.com. "The current events, though, are very discouraging for travellers. There are some intrepid people who are continuing with their travel plans."

Anti-government protests, which began on May 31 in Istanbul, have spread to more than 60
cities. Clashes between police and protestors have led to thousands getting injured, and the situation remains unpredictable. The civil unrest started after police cracked down on a local protest over cutting down trees in a park in Istanbul.
Turkish airlines had asked the Indian government to expand its weekly seat entitlement nearly five-fold, from 4,000 a week to 20,000. It wants to increase its frequency of flights from Mumbai and Delhi and fly to new destinations such as Chennai, Kolkata, Hyderabad, Bangalore, Amritsar and Ahmedabad.
Istanbul is challenging the supremacy of Frankfurt, Amsterdam and London, by offering value-for-money fares.
Istanbul is starting a third airport which will initially have a capacity to handle 90 million passengers, going up to 150 million when it is fully completed.
Europe commands an estimated market share of about 20 per cent of all Indian outbound departures. The outbound travel market has grown from 3.7 million in 1997 to 9.8 million international departures in 2007. Currently it is estimated at over 11 million, expected to grow to 50 million by 2020.
The Foreign and Commonwealth Office has advised against "all but essential travel to areas within 10 km of Turkey's border with Syria". The Canadian government has advised its citizens to take a lot of precautions and avoid certain areas due to terrorism threat. "The decision to travel is your responsibility…you should exercise a high degree of caution due to crime, the threat of terrorist attacks, and ongoing demonstrations throughout the country," the Canadian advisory said.