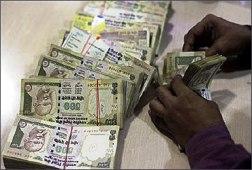 The rupee on Monday strengthened by 10 paise to settle at 55.06 on dollar selling by exporters amid weakness in the American currency in international markets.

The rupee commenced higher at 55.07 a dollar at the Interbank Foreign Exchange market from last Friday's close of 55.16.

The dollar index, a gauge of six major global currencies, was down by 0.22 per cent while New York crude oil was quoting below $88 a barrel in Europe today. This helped rupee gain strength.

It moved in a narrow range of 54.94 and 55.11 before settling at 55.06, a rise of 10 paise or 0.18 per cent.

Last Friday, it had fallen by 46 paise or 0.84 per cent.

Forex traders said the rupee mirrored the domestic stock market movement with the BSE benchmark Sensex today snapping its six-session string of losses by closing 29.63
points up.
Foreign institutional investors net sold shares worth just Rs 1.52 crore (Rs 15.2 million on Monday as provisional data from exchanges.
Pramit Brahmbhatt, CEO, Alpari Financial Services (India) said," The rupee traded in a volatile manner cramped between global and domestic sentiments.
"The constructive talks in US senate over fixing the fiscal cliff helped the rupee regain Friday's lost ground against the dollar but weak domestic fundamentals limited that strength.
Experts said that the current Eurozone situation makes the outlook bleak for the Euro and will impact the global economy as a whole.
"We expect rupee to further weaken towards 55.50 levels in the near term," said Abhishek Goenka, Founder & CEO, India Forex Advisors.