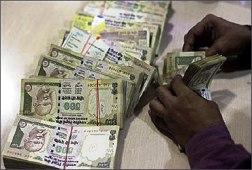 The rupee on Monday rose by 16 paise to close at one-week high of 54.17, following fresh selling of the US dollar by exporters amid strengthening of the euro overseas after Cyprus reached a bailout agreement with international lenders.

Forex dealers said continued capital inflows also helped the local currency.

The rupee commenced strong at 54.11 a dollar from last Friday's close of 54.33 at the Interbank Foreign Exchange market.

Later, it fell back in line with fall in equities at the fag end to a low of 54.24, before concluding at 54.17, a rise of 16 paise, or 0.29 per cent, from its previous close.

Foreign institutional investors lapped up local shares worth $132.5 million (Rs 717.89 crore), according to provisional BSE data.

Pramit Brahmbhatt, CEO, Alpari Financial Services (India) said:
"Rupee closed strong today, taking cues from recovery in euro overseas against the dollar after news of Cyprus' reaching a bailout agreement with its international lenders eased worries of its exit from the common currency bloc."
The dollar index was down by 0.03 per cent against a basket of six major rivals as Euro rose against the dollar after the Cyprus reached bailout agreement.
During Indian Forex trade hours, euro touched one-week high of 1.3048 against the dollar.
Cyprus and its euro zone partners early on Monday reached a deal on a 10-billion euro ($13 billion) bailout package for the island nation to avoid bankruptcy and to keep it within the single currency group.
The finance ministers of the euro zone nations agreed at an emergency meeting in Brussels to down size the banking sector to achieve the EU average by 2018 and to gradually dissolve the Laiki Bank, the country's second largest bank.