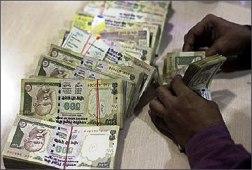 The Indian rupee on Thursday appreciated by eight paise, its biggest gain in nearly a week, to close at 54.28 against the dollar on continued dollar selling by exporters and mild capital inflows.

At the Interbank Foreign Exchange market, the domestic unit resumed higher at 54.30 a dollar from previous close of 54.36.

It then moved erratically in line with side-ways movements in local equities in a narrow range of 54.19 and 54.33. Rupee finally concluded at 54.28, showing a rise of eight paise or 0.15 per cent.

This is rupee's best gain since 34 paise on March 15. Helping rupee cement gains, FIIs today pumped in Rs 368 crore (Rs 3.68 billion)
in Indian stocks as per provisional BSE data.
Pramit Brahmbhatt, CEO, Alpari Financial Services (India) said, "Rupee traded higher against the dollar today taking cues from the euro, as markets looked past worries about Cyprus and toward manufacturing and services data due from the common- currency bloc."
The dollar index was down by 0.16 per cent against its six major global rivals.
Brahmbhatt expects the rupee (spot) to trade in 54-54.60 range against the US dollar.