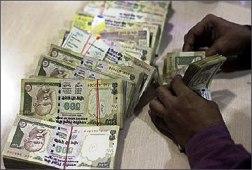 In a tale of contrasting fortunes, the Indian rupee on Tuesday appreciated by 23 paise to end at nearly two-week high of 54.18 on dollar selling and persistent capital inflows even as stock markets closed lower.

Earlier in the day, the rupee commenced higher at 54.30 a dollar from last closing of 54.41. It then moved erratically on alternate bouts of buying and selling in a range of 54.17 and 54.40 as higher-than-expected Industrial Production data for January was partially neutralised by rise in retail inflation for February.

The rupee finally closed near the day's high at 54.18, showing a rise of 23 paise or 0.42 per cent.

This is the strongest closing level for rupee since 53.86 on February 27.

On Monday, rupee fell by 13 paise, snapping a 3-day rally.

The Indian stock market benchmark Sensex, however, saw a volatile trade today and closed further down by 81.29
points.
In signs of recovery after a 2-month decline, industrial output in January grew by 2.4 per cent on account of better performance of manufacturing and power sectors.
However, rate cut hopes were dampened after data showed retail inflation moved up for the fifth consecutive month to 10.91 per cent in February.
"While IIP and retail inflation data did diminish rate cut hopes, all hope is not lost.
"Today, the rupee also reacted, albeit belatedly, to the positive trade data. Euro also provided support to the sentiment in favour of the local currency," said Harihar Krishnamoorthy, Treasurer, FirstRand Bank.
According to provisional bourses data, foreign institutional investors pumped in Rs 730 crore (Rs 7.3 billion) in stock markets on Tuesday.
Globally, the dollar index was trading up by 0.1 per cent against the basket of six major currencies on optimism that the US economy is improving.