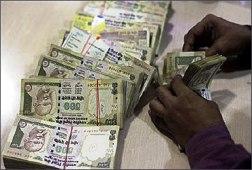 The rupee on Monday gained 31 paise to close at over one-week high of 53.86 on sustained dollar selling by exporters and recovery in euro in overseas market.

Forex dealers said persistent capital inflows and bearish dollar overseas also boosted the rupee sentiment in Mumbai.

The local unit resumed lower at 54.22 a dollar from last weekend's close of 54.17 and immediately touched a low of 54.25 at the Interbank Foreign Exchange (Forex) market.

Later, it rebounded following dollar selling by exporters and some banks to a end at the day's high of 53.86, a rise of 31 paise, or 0.57 per cent.

On Friday, it had gained by 30 paise, or 0.55 per cent.

"The reason behind the gains was the recovery in the euro and weakness in the dollar

index.

Monday's gains in rupee were on the back of speculation that the monetary stimulus measures by the developed nations will continue to pour flows in to the emerging nations," said Abhishek Goenka, founder and CEO, India Forex Advisors.

Foreign institutional investors pumped in $45.81 million (Rs 246.71 crore) into local equities, according to the provisional BSE data.

The BSE benchmark Sensex on Monday closed higher by 14.68 points, or 0.08 per cent, at 19,331.69.

The dollar index was down by 0.31 per cent against a basket of six major global currencies.

Pramit Brahmbhatt, CEO, Alpari Financial Services (India) said, "The rise in the rupee during the day was largely on the back of continued Dollar selling from exporters and robust FII inflows.

"However with Dollar weakening across the board, the rupee managed to settle the day near its session high."