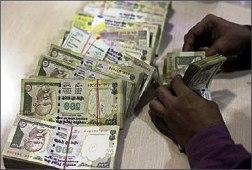 Hit by heavy dollar demand, rupee on Thursday tanked by 40 paise to end at 54.47, its weakest level in over a month, as the American currency spurted on speculation that US Fed may withdraw its monetary stimulus sooner-than-expected triggering a global sell-off across asset classes.

The rupee resumed lower at 54.37 per dollar as against the last closing level of 54.07 at the Interbank Foreign Exchange Market.

Tracking weak global stock markets and rising dollar demand, the rupee further fell to 54.60.

Despite foreign institutional investors pumping over $220 million in Indian stocks as per provisional exchange data, the rupee failed to make a turnaround and closed at over one-month low of 54.47, recording a loss of 40 paise or 0.74 per cent.

The rupee had closed at 54.69 a dollar on January 16.

In terms of fall, today's rupee losses are the biggest since the 57-paise drop on January 4 to end above 55-mark.

Dollar
demand from banks and importers during the day on the back of higher dollar in the overseas market affected the rupee value, a forex dealer said.
The dollar gained after minutes of US Federal Reserve's last meeting that were disclosed yesterday showed many Fed officials are worried about the costs and risks associated with the $85 billion-per-month asset-purchase programme. "The FOMC minutes gave signals that the Fed might end the QE3, which will be positive for the dollar index," said Abhishek Goenka, Founder & CEO, India Forex Advisors.
In Sydney, the US dollar held firm today, having enjoyed its biggest one-day gain in seven months against a currency basket as commodities and global equities slid.
The Euro was seen falling below $1.33 after the FOMC minute reports but poor data from Euro-zone is adding more pressure on the Euro and consequently on the rupee, he added.
Meanwhile, the Indian benchmark Sensex dropped sharply by 317 points or 1.62 per cent to close at 19,325.36.