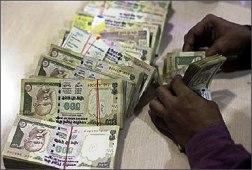 A fter touching one-month low level, the rupee today recovered to end four paise higher at 54.18 on late dollar-selling and capital inflows.

The rupee resumed lower at 54.43 per dollar as against the last weekend's level of 54.22 at the Interbank Foreign Exchange market.

It moved down further to one-month low of 54.44 on dollar demand from banks and importers on the back of higher dollar in overseas market.

However, it recovered afterwards to 54.15 before ending at 54.18, up 4 paise, on late dollar sales from banks and exporters, amid persistent capital inflows into stock market.

"The USD-INR pair is seen gaining momentum and it is trading above the key level of 54.20 levels. Strong gains in the dollar index and weakening trend in the Euro are contributing for the recent weakness in rupee," said Abhishek Goenka, Founder &
CEO, India Forex Advisors.
The BSE benchmark Sensex today rebounded from calendar year's lowest levels to close 33 points up at 19,501.08.
As per provisional data from bourses, FIIs pumped in Rs 143 crore in Indian equities today.
In London, the euro and the dollar rose against the yen in the early trade today after reports said the G20 decided not to criticise Japan for its expansionist policies.
All the major Asian currencies were trading on a weaker note against the US dollar.
The Euro tumbled towards $1.33 levels on reports that the ECB President is in favour of exchange rate stability to boost growth.
The dollar index, which was sustaining above 80.50 levels, also put additional pressure on the rupee, forex brokers said.