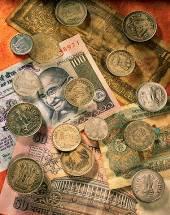 Tracking losses in the local stock market, the rupee on Thursday lost 10 paise to close at 53.92 because of renewed dollar demand driven by strengthening of the US currency overseas.

Forex dealers said, however, positive cues from easing inflation and continued foreign fund flows capped the rupee's fall to some extent.

The local unit resumed lower at 53.85 against Wednesday's close of 53.82 per dollar at the Interbank Foreign Exchange Market.

It declined further to 53.97 before ending the day a tad better at 53.92, a loss of 10 paise, or 0.19 per cent, over the previous close.

Rupee moved in a tight range of 53.81- 53.97 during the day.

"The rupee was seen trading range bound amid positive domestic data and the fall in the euro.

"On the international front, euro-zone's GDP figures put pressure on the rupee," said Abhishek Goenka (Founder & CEO, India Forex Advisors).

Snapping a two-day gaining string, the BSE benchmark Sensex slipped by 111 points, or 0.57 per cent, to 19,497.18
On Thursday.
Foreign institutional investors pumped in nearly $60 million (Rs 321.26 crore) into local equities, according to BSE provisional data.
The January WPI inflation figures which slipped to three- year low at 6.62 per cent against 7.18 per cent in December.
In Sydney, the US dollar inched higher gaining some traction against rivals ahead of a meeting of the world's top finance ministers and central bankers.
In London, euro and shares fell today after data showed the euro-zone's two biggest economies shrank even more than expected late last year, throwing a first quarter recovery into doubt.