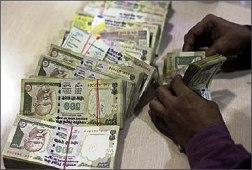 The rupee on Friday gained 17 paise to close at one-week high of 54.77 against the dollar on fresh selling of the US currency by exporters and capital inflows of over $152 million in a firm stock market.

Forex dealers said, however, a firm dollar capped rupee's rise to some extent.

The local currency started the day on a firm note at 54.84 at the Interbank Foreign Exchange market, from its previous close of 54.94.

Later, it moved in a narrow range of 54.75-54.98 before settling at 54.77, a rise of 17 paise, or 0.31 per cent.

"The rupee regained all of its lost ground of previous session on strong equity markets which advanced higher tracking gains in Japan's Nikkei," Alpari Financial Services (India) CEO Pramit Brahmbhatt said.

Foreign institutional investors pumped in over $152 million (Rs 833.40 crore) in the local stock market, as per provisional data
on the BSE.
Abhishek Goenka, founder and CEO, India Forex Advisors, said: "On the global front, the US dollar index was seen trading above its two week high as US lawmakers resume the fiscal cliff talks".
The dollar index, a barometer of six major currencies, was up by 0.27 per cent, after reports said US President Barack Obama called an 11th-hour meeting with top Congressional leaders to negotiate a deal to avoid the "fiscal cliff".
The premium for the forward dollar remained weak on continued receipts from exporters. The benchmark six-month forward dollar premium payable in May dropped further to 148-150 paise from Thursday's close of 154-156 paise.
Far-forward contracts maturing in November also tumbled to 288-290 paise from 297-299 paise.
The Reserve Bank of India has fixed the reference rate for the US dollar at 54.8473 and for euro at 72.6298.
Ta-Ta, Ratan