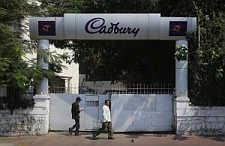 Corporate biggies such as Ajay Piramal Group and Anil Ambani's Reliance Group, as well as developers like Lodha, are said to be considering buying the 58-year-old Cadbury House in South Mumbai.

The 36,000-square-foot property, which is valued at around Rs 450 crore (Rs 4.5 billion) by property consultants, has been put up for sale by owner Mondelez International, the $35-billion snacking powerhouse, which was demerged from Kraft Foods last year. Cushman and Wakefield has been given the mandate to find buyers for the property.

The prospects in the race for the property did not respond to mails sent to them.

A Cadbury India spokesperson (Mondelez is registered by this name here) said the move to sell the property was linked to its need to find a larger office space to house the over 500 people, who are currently on its roles, in the city.

"With the rapid expansion of the organisation, we need an integrated office space that is easily accessible, central and provides employees a world class work environment that is flexible for future expansion," the company spokesperson said.

Mondelez at the moment has three offices in the city - in Mahalaxmi, where Cadbury House is located, at Empire Mills in Lower Parel and a sales office in Powai.

The company also has a factory at Thane, where it is setting up a research and development centre.

Real estate consultants say the property could find enough takers given that it is a prime area and has good development potential.

"You can benchmark the deal to last year's US Consulate deal. This plot should be able to fetch more value than that one," said the head of a property consultant based in Mumbai.

"But everything depends on the approvals and development rights they get."

Last year, the US Consulate sold Washington House, its three-storied residential building at Altamount Road, in South Mumbai, to Lodha Group for Rs 375 crore (Rs 3.75 billion).

Realty consultants Business Standard spoke to said the reason for the hefty price for Cadbury House was that the plot had a saleable area of 100,000 sq feet and rates in the area were in the region of Rs 60,000
a sq ft.
Despite a slowing realty market, rates for prime properties in South Mumbai have not come down, consultants said.
Raja Seetharaman, managing director of the Mumbai-based realty consultancy Aperon Realty said the prospective buyer of Cadbury House would look at developing the property for residential purposes, given its prime position.
While the Mondelez spokesperson declined to indicate which areas or properties it was looking at for the new office, speculation has been rife that the new workplace would come up at Thane.
"Over time, we would like to consolidate our growing workforce in Mumbai, which is currently spread over offices across Mumbai. We will be looking for locations more northwards of the city, given the trend of workspaces in Mumbai and as been done by several companies in the recent past," the spokesperson said.
Three years ago, the country's largest fast moving consumer goods company Hindustan Unilever Ltd had moved from the landmark Lever House in South Mumbai, where it was housed for over 46 years, to a new campus in Andheri (East), a north-western suburb.
This was part of the company's 'One HUL Campus' philosophy, where it envisioned integrating various business processes at one location.
The HUL campus, spread over 12.5 acres, can house over 1,600 employees. It also boasts of facilities such as a convenience store, library, food court, an occupational health centre, gym, a sports and recreation centre and a day care centre. The campus also uses green and energy efficient building features such as rainwater harvesting, optimal use of glass and use of 'zero-waste' water recycling concepts.
Mondelez, which had a revenue of Rs 3,359 crore (Rs 33.59 billion) in 2011, is also expected to set up a state-of-the-art facility that can house existing staff, as well as expand as head count increases.